12-01-2017 09:33:08
Savage Gear Soft 4Play Shad 8g. & 12g - 'READY TO FISH' - UDSALG!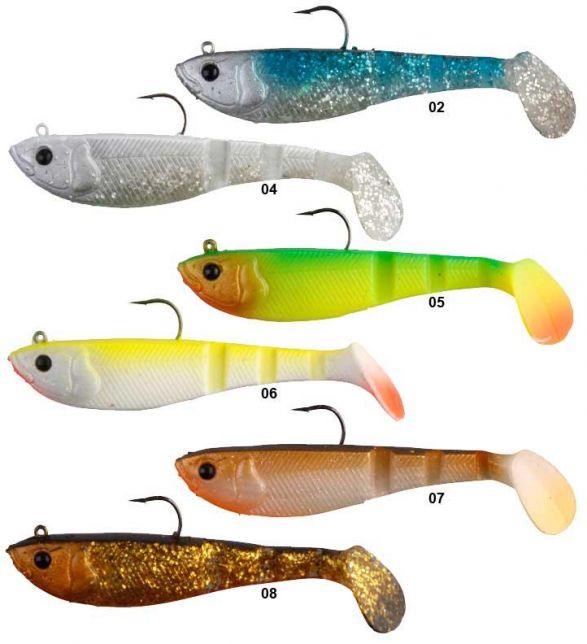 4PLAY SHAD 'READY TO FISH'
er en led-delt meget effektiv mindre gummi-shad med integreret vægt på hhv. 7,2cm / 8g & 8,5cm / 12g.
Der er enten 1 stk ell 3 stk. Ready to fish gummiagn pr. pakke og de findes i 6 velfangende farver.
En suveræn agn til aborre i både fersk & brakvand! Desuden også fin til sandart, havbars, gedde mm.
Savage Gear's massive success with the hard and soft 4Play range - have
led to this Brilliant 4Play shad that brings new life and innovation to a
very classic lure design. The 4Play shad is meticulously designed to swim
with the most enticing and lifelike erratic action possible - both on the
retrieve and on the drop! Field testing results have been phenomenal and
these easily fished lures will amaze you!
Erratic swimming action on retrieve and drop

Available as 'Ready to Fish' and Loose body

Side flashing body rock

Ultra sharp tournament hooks

Boiling water reshape

Superb for Pike, Zander, Perch, Bass and any other Prey hunting Predators!

Savage Gear Soft 4Play Shad 7,2cm / 8g. + 8.5cm / 12g - READY

| | | | |
| --- | --- | --- | --- |
| Model / str. | Vejl. pris | Tilbuds Pris | |
| Savage Gear Soft 4Play Shad 7,2cm / 8g. - READY TO FISH: No. 02 - Blue Silver 1pk. | 29,- | 20,- | |
| Savage Gear Soft 4Play Shad 7,2cm / 8g. - READY TO FISH: No. 02 - Blue Silver 3pk. | 69,- | 59,- | |

mail@jagtogfiskerimagasinet.dk
Se andre produkter fra samme mærke
Savage Gear