14-05-2020 13:46:21
Pig Shad Jr 15 cm
Inspireret af den amerikanske jerkbait; The Pig med sin kompakte form og levende bevægelse i vandet. Agnen imiteret perfekt en svæøkket agnfisk i vandet.
En virkelig letfiskende shad med virkelig mange store gedder og kæmper fra havet på samvittigheden.


# 014 Ice Shad


# 107 Goldie


# 111 Retriever


# 102 Fire Tiger


# 100 Blue Pearl


# 114 Tomato


# 018 Green Ice

#009 Carrot

#119 Vampire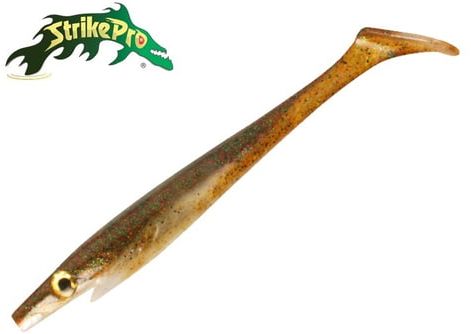 #108 Baby Brown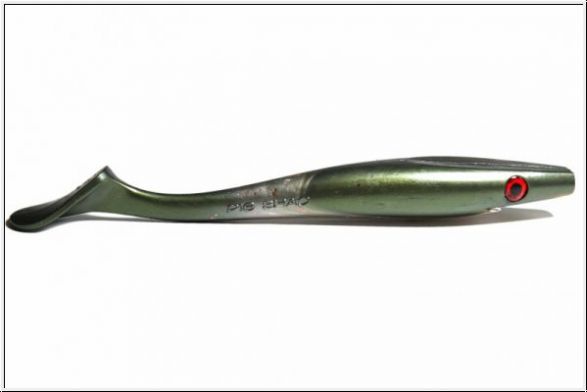 # 104 Arkansas Shiner

#118 Watermelon Red Flake

#co17 Motor Oil Pepper
Pig Shad is a soft-plastic shad inspired by the classic jerkbait The Pig. Pig Shad has a seductive rolling action while the head is rocking from side to side. The tail paddles and twists in a low frequent rate. A perfect imitation of a injured baitfish that slowly trudge forward with its last strength! Pig Shad has a unique profile that resembles a fat baitfish. It's excellent to use with jigheads or with BFT Flexhead Pike. With a BFT Pike Center Pin the incredible rolling action of this lure really comes to show. Rig it with BFT Tandem Rig and slowly retrieve it over shallow areas. Chomp! Chomp! 15cm 20g.
Pig Shad Jr 15 cm

| | | | | |
| --- | --- | --- | --- | --- |
| Model/Str: | Farve: | Vejl: | Nu: | |
| Strike Pro The Pig Pig Shad Jr 15cm - 4pk. - 20g. | Col. Goldie #107 SP172C | 99,- | 79,- | |
| Strike Pro The Pig Pig Shad Jr 15cm - 4pk. - 20g. | Col. Retrieve #111 SP172C | 99,- | 79,- | |
| Strike Pro The Pig Pig Shad Jr 15cm - 4pk. - 20g. | Col. Fire Tiger #102 SP172C | 99,- | 79,- | |
| Strike Pro The Pig Pig Shad Jr 15cm - 4pk. - 20g. | Col. Blue Pearl #100 SP172C | 99,- | 79,- | |
| Strike Pro The Pig Pig Shad Jr 15cm - 4pk. - 20g. | Col. Tomato #114 SP172C | 99,- | 79,- | |
| Strike Pro The Pig Pig Shad Jr 15cm - 4pk. - 20g. | Col. Green Ice #018 SP172C | 99,- | 79,- | |
| Strike Pro The Pig Pig Shad Jr 15cm - 4pk. - 20g. | Col. #009 Carrot | 99,- | 79,- | |
| Strike Pro The Pig Pig Shad Jr 15cm - 4pk. - 20g. | Col. #119 Vampire | 99,- | 79,- | |
| Strike Pro The Pig Pig Shad Jr 15cm - 4pk. - 20g. | Col. #108 Baby Brown | 99,- | 49,- | |
| Strike Pro The Pig Pig Shad Jr 15cm - 4pk. - 20g. | Col. #104 Arkansas Shiner | 99,- | 79,- | |
| Strike Pro The Pig Pig Shad Jr 15cm - 4pk. - 20g. | Col. #118 Watermelon Red Flake | 99,- | 49,- | |
| Strike Pro The Pig Pig Shad Jr 15cm - 4pk. - 20g. | Col. # C017 Motor Oil Pepper | 99,- | 79,- | |
| Strike Pro The Pig Pig Shad Jr 15cm - 4pk. - 20g. UDGÅET | Col. Ice Shad #014 SP172C | | | |

mail@jagtogfiskerimagasinet.dk
Se andre produkter fra samme mærke
CWC