02-03-2020 13:44:17
Shimano Cruxis 200 Low Profile - Restsalg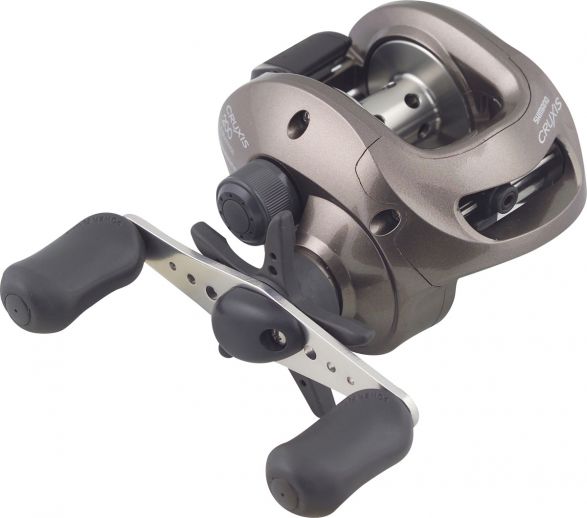 Prisbilligt kvalitets low profile multihjul fra Shimano USA med højre hånds-indspinning.
Stærk hjul med kunstof hjulhus ala curado og samme opbygning med centrifugalbremse, linefører og stærkt drev.
Et klassisk hjul til fiskeri efter fladfisk, kastefiskeri efter torsk, predatorfiskeri mm.
Produceret i Malaysia.
The Cruxis series reels offer anglers an aluminum frame that gives it the backbone to keep its internal workings smooth and in alignment while fighting the toughest opponents. It also comes with Shimano's Variable Brake System (VBS®) for maximum casting efficiency in all conditions, giving you the ability to get your bait in the fish's face.

The Turn-Key Access Sideplate lets you adjust the VBS with a twist of the wrist in a matter of seconds, so you can adjust to the changing conditions while on the water. The clicking drag adjustment gives anglers peace of mind knowing that their drags will stay set without backing off in the middle of a fight.

The Cruxis reels have earned its reputation as a reel that offers anglers what they need to get the job done, because without the right equipment, a good day of fishing is hard to come by. Cruxis will help make your days on the water fond memories.

Other features of these reels are listed below:
High Efficiency Gearing (HEG™)
Lo-Mass™ Drilled Spool System
Super Stopper®
PV Power Paddles
Aluminum Frame for tight tolerances and unflexing durability.
We carry the Shimano Cruxis series in two models, with right and left handed retrieves. The table below shows the specifications for each reel.
Reel Specifications
Model
Retrieve
Capacity
(yards/lbs.)
Gear Ratio
Weight
Ball Bearings
CRX200
Right
8/180
10/155
14/110
6.2:1
9.5 oz.
3
CRX201
Left
8/180
10/155
14/110
6.2:1
9.5 oz.
3
 

mail@jagtogfiskerimagasinet.dk
Se andre produkter fra samme mærke
Shimano