31-03-2022 17:30:26
Shimano Metanium DC HG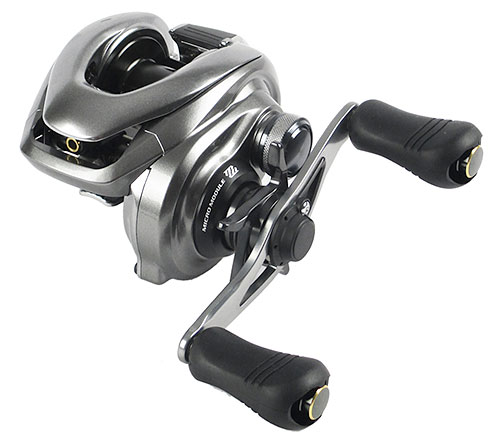 ER du ude efter et super letløbende High Performance lavprofils multihjul for langdistance kast anno 2017 med Digital kastebremse - så er dette LIGE noget for dig :-)
Et suverænt letløbende multihjul med venstrehånds indspinning til det lettere predatorfiskeri i både ferskvand og saltvand.
Du kan optimere dit fiskeri med DC -mindske friktionen og få hjulet til at "geare ned", når blinket rammer vandet.
Gearing:7,4:1 - lineindtag pr. omdrejning 79cm.
Atal lejer: 9 kuglelejer + 1 rulleleje.
Vægt: 190g.
Max bremsetryk: 5kg.
Shimano Metanium DC is the best performing bait caster for all of anglers. It is ultra light, and super smooth, and you may focus on signals from fish. Casting with Metanium DC is quite easy. The state of arts i-DC5 brake system casts very smooth for long. Its body construction is combined with magnesium alloy body frame and CI4+ engineering carbon material side plates to achieve light-weight and solidness.

It employs two innovative features to make it real arsenal for serious anglers. The first noticeable feature is the micro module gear system, which provides amazing smooth gearing. Pinion and master gear has twice the number of gear teeth than previous models, to drastically reduce the gearing noise. The second is i-DC5 computer brake system, which allows you to cast very long, longer than any other brake system. You will set line material from 3, nylon, fluorocarbon or PE braid, and choose rig weight from 4, 1: heavy 18-30g, 2: regular 10-20g, 3: light 8-12g, 4: finesse 5-8g, A: full-auto setting and it covers very wide 7-30g weight automatically and you don't have to worry about the "weight setting."
By setting these material and weight, it casts the longest without any worry for back lash.
Saltwater fine
Silky smooth, micro module gearing system
Long life, hyper-tensile gears
i-DC5, digital control brake system
Extra efficient X-SHIP gear system
Sealed anti-rust ball bearings S-ARB
Clicking star drag
Super free spool design
One touch removable side plate
Low sitting, small palming body
Gear safe level winder disengaging when obstacle stacked
Handle length, Metanium DC and HG 84mm, XG 96mm
Made in Japan
Introduction: Once the buzz around the fishing industry, Shimano's DC cast control system has been really quiet as of late. Instead, the manufacturer's newer SVS Infinity braking system has taken center stage - and rightfully so. Still, in today's age of digital everything, it's difficult not to wonder if Shimano has abandoned the system all together or if their continuing to refine it. And of course, if they are continuing to refine it, where are the reels? We received an answer to that question in the middle of last year and now it's time to take a look. Introducing Shimano Japan's 2015, Metanium DC.
Shimano Japan Metanium DC Specifications

Line Capacity - Rated

10lb / 130yds
Line Capacity - Spool Volume
11.9 cm3

Retrieve Ratio

6.2:1

7.4:1

8.5:1

Inches Per Turn

(IPT) - calculated

15-25

18-30

20-33

Weight

6.8 oz
Spool Weight
18 g
Handle Length
84 mm (96mm on the XG model)

Bearings

9+1
Bearings per Knob

2 bearings

Levelwind Bearings

None

Tested Max Drag

~13.8lbs

Origin:

JAPAN

Introducing Shimano's 2015 Metanium DC.
Quality/Construction: As the name suggests, the 2015 Metanium DC is the digital control (DC) version of the popular, and TackleTour Editor's Choice Award winning 2014 Metanium. This means it's a low profile casting reel featuring a magnesium frame with Ci4+ carbon sideplates. The finish of this reel is a solid, metallic grey with different colored cast control knobs to delineate the reel's gear ratio. Frame and sideplate tolerances on our test model were perfect with zero handle play and no play in the handle knobs either.
Quality Ratings for Shimano Japan 15 Metanium DC

Finish (1-5)

Frame & Sideplate Tolerance (1-5)

Handle Tolerance (1-5)

Knob Tolerance (1-5)

Total

Possible

Rating (= Tot/Pos * 10)

5

5

5

5

20

20

10.0
Performance: I fished this reel on a number of different rods but found its perfect match with an Evergreen International Super Stallion Inspire. Mounting this reel on that rod was as if the two were made for each other. I mostly fished the reel while spooled with Maxima Ultragreen nylon monofilament.

The 84mm is standard for all but the XG reel which comes with a 96mm handle.
Retrieve: Our test model was the standard, 6.2:1 gear ratio reel. The Metanium DC's gears are made from aluminum so I expected to have that more connected sensation while turning the handle of this reel - like you get with most reels that have aluminum gears. But the Met DC benefits from Shimano's latest, Micro-Module Gear designs featuring smaller teeth for more constant contact and ultimately, buttery smooth operation.
Drag: The Metanium DC features Shimano's old school, single disk drag system. That is, a single composite washer inside the main gear, but also one on the back side of the main gear. the result is very smooth performance validated by the reel's performance on The Machine. The reel's Sweet Drag Performance chart below shows very smooth and consistent performance except when approaching lock down force. Every reel is erratic at this setting.

Fig 1: The Sweet Drag Performance chart above shows the consistency in drag performance of our Shimano Japan 15 Metanium DC .
Out on the water, the Metanium DC's drag performed very well when needed though I did not test the reel's lock down maximum drag of nearly 14 pounds of pressure. I rarely fish my reels on lockdown because I'm never in a hurry to horse a fish to the boat.

The Met DC has a retro, Shimano fighting dragstar.
Sweet Drag Performance for Shimano Japan 15 Metanium DC (#.# Turns to Lockdown)

 

Lock - 8

Lock - 6

Lock - 4

Lock - 2

Lockdown

Avg % Change

 

 

 

Start Up

1.7

3.4

5.5

9.2

10.9

Sustained

1.6

3.7

5.8

8.9

11.4

Lowest Value

1.2

3.2

5.1

8

8.3

Change in Startup vs Sustained

2.6%

8.5%

5.3%

2.9%

4.4%

4.7%

Biggest Drop from Sustained

28.7%

14%

12.1%

10.2%

27.1%

18.4%

Drag on this reel was tested with the dragstar fully tightened. Then with each successive test, the drag was backed off with two short pushes of the dragstar with our thumb.
Power: The Metanium DC's Micro-Module Gearing delivers very good power to the point you can easily use this as a cranking reel for those super deep divers. Additionally, 6.2:1 is the new "slow" retrieve with this reel's top end being an 8.5:1 retrieve ratio reel - we did not fish this model

This reel features Shimano's Micro-Modulus gearing system.
The supplied 84 mm handle is good length for general purpose applications and provides sufficient leverage for just about any application you wish to employ with the reel.

The Metanium DC's i-DC5 braking system is far more dynamic than past DC systems.
Casting Range: My experience with DC reels is they've always been good with general purpose baits, but not very good casting baits below three eighths of an ounce (3/8oz) or in low speed pitching presentations. The Metanium DC changes that game with settings designed to handle baits at different weights and each according to the specific type of line you have spooled on the reel.

This dial located at the bottom front of the non-handle sideplate let's you set the brake force depending on the approximate weight of the lure you have tied on.
Hidden at the top of the non-handle sideplate is a dial that has three settings (N = Nylon : PF = Braid : F = Fluoro) from which to select the type of line you have spooled on the reel. Once you've established this setting and closed the reel back up, there's a separate dial under the front edge of the non-handle sideplate with settings from one to four (1-4) depending on the approximate weight of the lure you have tied on.

But this dial located at the top of the nonhandle sideplate, but hidden when that plate is closed, tells the DC system what type of line you're using.
This dial is a little counter intuitive as the smallest number, 1, is for the heavier lures (18-30grams) and the largest number, 4, is for the lightest lures (5-8grams). So the Metanium DC is essentially designed for lures between five to thirty (5-30 grams) or roughly three sixteenths of an ounce to one full ounce (3/16 oz - 1 oz).

Mounted on an Edge Black Widow drop shot rod for some tests with light weight lures.
To test the Metanium DC's lower settings, I respooled it with some six pound (6lb) PLine PF Original copoly and mounted it on the casting version of Edge Rod's former Black Widow drop shot rod (6100-1). This stick is rated from one eighth to one quarter ounce (1/8-1/4oz) in lure weight. I then tied an Owner #2 Mosquito hook to the end of the line and tipped the hook with a Jackall Crosstail Shad bait - total weight of this rig? Three grams (3g).

The Met DC sits low on the rod and is very easy to palm.
With the Metanium DC's brake dial set at four (4), I was able to cast this, in a cross wind, from about thirty to forty feet (30'-40'). Almost fishable distances, but of course, a lure range under the reel's design. So I took the Crosstail Shad off, dug around my tackle bag and found some Zoom BrushHogs. Total weight of this lure with the hook is seven grams (7g) - perfect. I felt an immediate difference with this change of 4 grams and was able to cast the Brushhog fifty to sixty feet (50'-60') and pitch to about forty feet (40') with minimal effort and in a cross wind. That's the lowest I've been able to go with any DC reel I've fished in the past.

Taking the reel apart begins with removal of the non-handle sideplate and spool.
Brakes: All this is made possible by Shimano's latest digital cast control system, i-DC5. And as if the manual selection settings of one to four (1-4) weren't enough, the i-DC5 system also has another setting, "A" for automatic! So if you don't want to take the time to dial in the manual setting that best suits the lure weight you're using, you can set the dial to A and let the brake system figure it out for you automatically.
Features: As if the discovery of Shimano's new i-DC5 brake system wasn't enough, on the list of standard features on our checklist, the Metanium DC comes with an externally adjustable brake of course, no bearing on the levelwind, two bearings per handle knob, a clicking drag star only, no reel cover, and a vial of oil in the box.

But there is no bearing to support the level wind wormgear.
Not on our list of standard features, we should note the Metanium DC does benefit from Shimano's other latest technologies including the afore mentioned micro-module gearing system and X-Ship, a bearing supported pinion gear.
Features Ratings for Shimano Japan 15 Metanium DC

Ext Brake Adjust? (1-2)

Levelwind Bearing(1-2)

Knob Bearings (1-3)

Micro Clicks (1-3)

Reel Cover(1-2)

Oil(1-2)

Total

Possible

Rating (= Tot/Pos * 10)

2

1

3

2

1

2

11

14

7.86

Super comfortable knobs but not contoured for left or right hand reels as in the past.
Design & Ergonomics: The Metanium DC comes with the standard 84mm handle found on the non-DC Metanium with the exception of the super high retrieve ration model (XG) that features a 96mm handle. The knobs on this reel are super comfortable to grasp and this reel palms the same as the standard Metanium - very comfortably. At 6.8 ounces, this reel is a tad heavier than the standard Metanium but not cumbersome to fish all day by any means. Breakdown is a little tricky with the fastening screws located on the spool side of the handle sideplate, but that's standard practice for Shimano now.
Design & Ergonomics Ratings for Shimano Japan 15 Metanium DC

Handle Length(1-5)

Knobs (1-5)

Palming (1-5)

Overall Weight (1-5)

Ease of Breakdown (1-5)

Total

Possible

Rating (= Tot/Pos * 10)

4

5

5

5

3

22

25

8.8

The sideplate is actually held on by a double cam system. Both this lever on the bottom, and the brake dial have to be set to "open".
Application: This reel is as versatile as the standard Metanium and though the braking system has been tuned to allow easy casting of baits down to three sixteenths of an inch, I still would not consider the Metanium DC a finesse reel. It's just a very excellent all around baitcaster and able to support a wide array of standard applications. If there was a low speed model with a big handle, it would have gotten a "5" in "Horizontal" applications in support of deep diving cranks, but realistically, you can do this with the standard, 6.2:1 retrieve ratio model too.
Application Ratings for Shimano Japan 15 Metanium DC

Horizontal (1-5)

Vertical (1-5)

Finesse (1-5)

Big Baits(1-5)

Topwater(1-5)

Total

Possible

Rating (= Tot/Pos * 10)

4

5

4

3

5

21

25

8.8
Ratings:
Shimano Japan 15 Metanium DC Ratings (?/10)

Construction/Quality

Perfect out of the box

10

Performance

A DC braking system that can easily handle baits down to 3/16 oz... I still can't believe it.

9.6

Price

You can purchase the standard Metanium domestically at $420 or search online for the DC at $425 from overseas...

7

Features

Interesting that the cast control knob doesn't click

7.86

Design (Ergonomics)

Super comfortable reel to fish with all day long

8.8

Application

Thanks to the new braking system that allows for a normal lure weight range, this reel is applicable in a wide variety of standard applications

8.8

Total Score

8.68
Ratings Key:1 = terrible : 2 = poor : 3 = lacking : 4 = sub par : 5 = mediocre : 6 = fair : 7 = good : 8 = great : 9 = excellent : 10 = unbelievable!
For More Details of the updated rating system visit our explanation here
Pluses and Minuses:
| | |
| --- | --- |
| Plus | Minus |
| + True, sophisticated digital control with i-DC5 with the usual DC whine | - Not available in US tackle stores - at least not yet |
| + Super comfortable reel to use all day |   |
| + Inspiring casting performance |   |
| + Smooth, consistent drag |   |
Conclusion: Shimano's digital control braking system has long been a favorite of mine because it combines two things I really enjoy - fishing and technology. But something had always been missing with Shimano's DC systems and that was the ability to cast lures lighter than three eighths of an ounce (3/8oz). It may not seem like a big deal to most anglers, but this has always been my threshold when determining if a reel was "high end" or not. All standard casting reels can more or less get down to casting a three eighths ounce lure weight, but only the more refined reels have a braking system that will allow you to easily cast something down to one quarter of an ounce. It's not very practical and this is why most reels aren't designed to go that low, but the threshold is real.
Shimano's 2015 Metanium DC easily wins our Enthusiast Award!
Shimano's DC system, with one exception that comes to mind (Scorpion DC), is almost always on a high end reel, but that little limit in the braking system's ability always annoyed me. Now finally, with the i-DC5, I can spool on some lighter line with the reel and use it for shaky heads, smaller jigs, and even heavier drop shot applications - an extended range of applications worthy of a high end reel.

If you have one in your sights, do not hesitate - fulfill your destiny.
When I reviewed the 2013 Shimano Metanium back in 2014, it was instantly my new favorite reel and easily won our Editor's Choice because Shimano's new SVS Infinity Braking system really impressed me. Take that same reel and insert a digital braking system that is even more advanced and take nothing else away from the original and what do you get? The makings of TackleTour's Ultimate Enthusiast Award! Shimano's 2015 Metanium DC is the real deal. If you have one in your sights, do not hesitate - fulfill your destiny.

mail@jagtogfiskerimagasinet.dk