19-07-2019 17:05:29
illex GANTAREL & GANTAREL JR.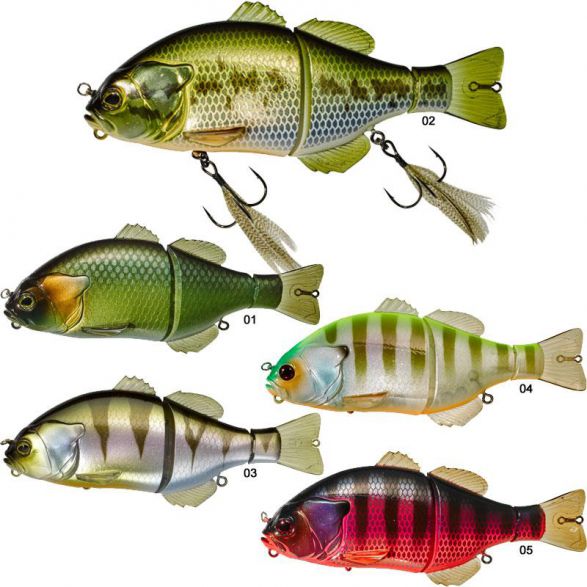 Vi har fået et parti super spændende swimbait i shoppen fra Franske illex!

Her er VIRKELIG tale om unikke agn i særklasse...

Modellen findes i en JR udgave på 13cm & 43,5g. + en std. udgave på 16cm 70g.

Begge modeller er svagt flydende, men kan fiskes / trækkes ned til ca. 1 meters dybde an på, hvor den monteres i af øjerne - da der er rigtig mange monteringsmuligheder

- Et oplagt valg til Brakvandet, mosen eller søen i forårsmånederne :-)

Her er tale om en 3-delt swimbait agn, der kaster rigtig godt, der naturligvis har en virkelig lækker finish med rigtig mange gennemførte detaljer i form af finner, mange monteringsmuligheder og naturligvis et HELT unikt bevægelsesmønster!!!

Denne agn kan fiskes monotomt ved almindelig indspinning med stor succes-rate, men den kan også med stor fordel jerkes og fiskes aktivt med ens helt eget særpræg ala en jerkbait, hvor masser af spinstop med 180graderers turn og meget langt "hæng" i vandet for størst mulig provokation sjældent slår fejl, når man har en følger...

Findes i shoppen i følgende modeller:

GANTAREL JR. col. 05 RED BLUE GILL - 130mm & 43,5g. Fiskedybde: 0,8-1 m

GANTAREL JR. col. 02 HL AGRESSIVE BASS - 130mm & 43,5g. Fiskedybde: 0,8-1 m

GANTAREL JR. col. 04 HL VISIBLE PERCH - 130mm & 43,5g. Fiskedybde: 0,8-1 m

GANTAREL col. 05 RED BLUE GILL - 160mm & 70g. Fiskedybde: 0,6 m

GANTAREL col. 03 HL Perch - 160mm & 70g. Fiskedybde: 0,6 m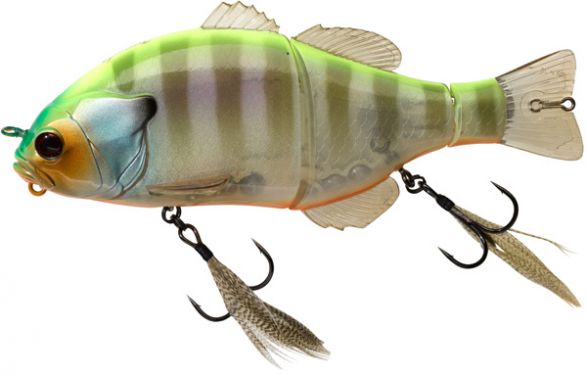 Illex Gantarel & Gantarel JR.
The GANTAREL is a jointed swimbait that has more than one string to its bow.
The 3 articulated parts to the body gives it a swaying swim imitating an injured prey fish, like a perch. The attractiveness of this alluring swimming is enhanced by the addition of feather teasers fixed onto the hooks. The two pectoral fins act like a bib and allow
Gantarel to reach a depth of 1 meter swim. Located on the front of the lure, the eyelet for
attaching the line is mounted on a swivel rolling to reduce the risk of line twisting. The hooks are also attached by swivels allowing them to rotate 360 degrees – this ensures better hook sets with fish which are prone to head shaking, like pike.
A second eyelet located under the chin can change the characteristics of the lure
and greatly expand its scope or can add a ballast, so the Gantarel
becomes a slow sinking swimbait fish ready to try moving closer to the bottom . By attaching
the line, it turns into a wakebait cut for fast fishing surface. A third
eye, located lure tail can accommodate an extra hook or any other attractant (blade / feather etc) to further strengthen the attractiveness of this surprising lure.
The icing on the cake, the Gantarel is able to turn 180 degrees when the twitch!
illex GANTAREL & GANTAREL JR.

| | | | |
| --- | --- | --- | --- |
| Model / str. | Vejl. pris | JoF pris | |
| GANTAREL JR. col. 02 HL AGRESSIVE BASS - 130mm & 43,5g. Fiskedybde: 0,8-1 m | 399,- | 319,- | |
| GANTAREL JR. col. 04 HL VISIBLE PERCH - 130mm & 43,5g. Fiskedybde: 0,8-1 m | 399,- | 319,- | |
| GANTAREL JR. col. 05 RED BLUE GILL - 130mm & 43,5g. Fiskedybde: 0,8-1 m | 399,- | 319,- | |
| illex GANTAREL col. 03 HL PERCH - 160mm & 70g. Fiskedybde: 0,6 m | 449,- | 359,- | |
| illex GANTAREL col. 05 RED BLUE GILL - 160mm & 70g. Fiskedybde: 0,6 m | 449,- | 359,- | |

mail@jagtogfiskerimagasinet.dk