04-09-2019 12:03:15
Fell Marine MOB+ trådløs dødmandskontakt - Startpakke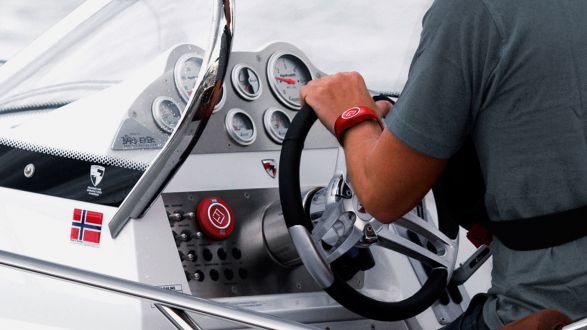 Nu er det slut med at gå på kompromis med sikkerheden!
Ét armbånd med en MOB enhed og én enkelt monteret MOB base enhed, er alt hvad du behøver.
MOB+ trådløse dødmandskontakt stopper automatisk motoren hvis du falder overbord eller du bevæger længere væk end 15m fra MOB unitten.
Passagerer ombord i fartøjet kan genstarte motoren ved et enkelt tryk for derefter at hente den overbordfaldne.

Der kan "parres" hele 20 forskellige MOB enheder til modtageren så alle med en "parret" MOB enhed kan benytte fartøjet hver især.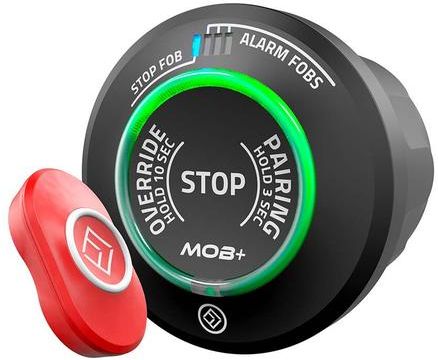 MOB-enheden har 300 timers batteritid, IP68 klassificering (vandtæt til 3m) samt et WiMEA® signal, som i princippet er umuligt at forstyrre.
Nem & hurtig installation / montering!
OVERBLIK:
300 Timers batteritid
Hurtig tilkobling samt frakobling af dødmands kontakten
Muligt at anvende MOB enhed uden armbånd
IP68 klassificeret MOB enhed, for 3 meters vandtæthed
IP67 klassificeret Base enhed
FCC Certificeret
15 Meters rækkevidde
Op til 20 Armbånd per base enhed
Vægt 164gr.
Arbejdstemperatur -15 °C til 55 °C
Lydniveau Alarm >85dB
Strømforbrug 2,4W max. vid 13,8Vdc (0,2A)
Sikring 1A-3A
YouTube Quick Video gennemgang
Tilkøb evt. xBAND "armbåndsure" + xFOB "kontakt enhed" til  dig selv eller passagerene ombord!
xBand findes i mange sjove farver - Rød - Sort - Blå - Gul - Pink
!!!OBS!!! Armbånd følger ikke med i basis pakken.
xFOB "kontakt enhed" som integreres i armbåndsuret findes kun i Rød - batteriet har ca. 300 timer i funktion.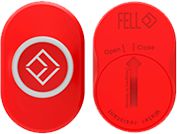 Intelligent Man Over Board System!
In a world where electronics surrounds us it's almost incredible that the corded kill switch still exists: MOB+ is an electronically controlled, wireless kill switch which can be used on all boats. It has finally arrived, the kill switch which gives the user not only all the benefits of electronics but freedom and additional safety as well. We recommend using MOB+ on boats with size of 40 feet or less.
General information about the system
As you step aboard your boat, press the xFOB to connect to the xHUB. A green light and an audio signal will confirm the connection and the engine can be started. Should a fall over board occur the engine will be shut down, caused by the xFOB being under water or more than 50 feet from the xHUB. 6 seconds after shut down passengers can restart the engine to save the person in the water. When leaving the boat press the xFOB once to disconnect.
Up to 20 xFOBs can be stored per xHUB (if more than 20 are paired the first ones which were paired will be deleted).
Only one xFOB is connected at a time, but various users of the same boat can have their personal xFOB for when they are using the boat.
Liberty of movement is part of the boating experience. Moving around unobstructed, talking to everyone, getting something to eat or drink if you're hungry all add to the joyful experience of a day at sea. Until now, a corded kill switch has limited this possibility for the person in charge of navigation. The kill switch, more precisely the cord on the old kill switch – has been an obstacle. As so often happens, many have gotten rid of this obstacle, to increase flexibility.
MOB+ allows you to have both, safety and freedom, 100%. Wear the xFOB on your
wrist or in your pocket, it's up to you. What matters is that you wear it. All the time.
In that way you and those with you will be safe at all times.
MOB+ Basepack
All you need to get started boating wireless!
With the MOB+ Basepack you get a MOB+ xHUB with connection cables and antenna
to mount in your boat, an xFOB, butt splices for cable connections and User Manual.
Choose to combine the MOB+ Basepack with either or both of the xBAND and xTAG.
You can also add additional xFOB to your system if you have several user of your
boat.
Fell Marine MOB+

| | | |
| --- | --- | --- |
| Model | JoF pris | |
| Fell Marine MOB+ EKSTRA xBAND (armbåndsur - NB uden xFOB!) Farve: Rød | 199,- | |
| Fell Marine MOB+ EKSTRA xBAND (armbåndsur - NB uden xFOB!) Farve: Sort FM-302 Bestillingsvare | 199,- | |
| Fell Marine MOB+ EKSTRA xFOB (kontakt enhed) Farve: Rød | 375,- | |
| Fell Marine MOB+ standard startpakke inkl. trådløs dødmandskontakt + xFOB | 1.849,- | |

mail@jagtogfiskerimagasinet.dk