15-07-2021 10:01:39
Savage Gear Line Thru Trout 15 - 20 - 30 cm. -50% - UDSALG!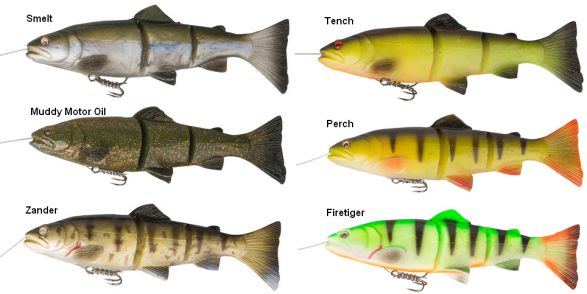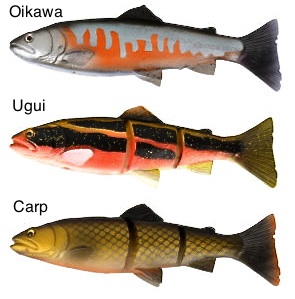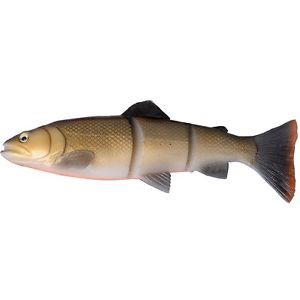 Dirty Roach
Succesen omkring Savage Gear's 3D Line Thru Trout fortsætter! 7 custom farver er landet i shoppen i 3 størrelser og 2 vægte (SS + MS)!
Desuden er der landet 3 Limited Edition Japanske farver i begrænset mængde Sommer 2016! 15 cm - 20cm & NY 25cm - både SS & MS!
Ved brug af 3D-scanning af en rigtigt ørred har man opnået at få rigtig mange fede detaljer til baitsne!
Det innovative "Y-Line Thru System" er brugt, så du har mulighed for at sætte krogene enten på ryggen eller under maven, afhængigt af hvordan du ønsker at fiske agnen.
Gennemløbs teknikken kender mange lystfiskere allerede fra alm. gennemløbsblink, - denne teknik er videreudviklet og er overført til SG LTT, så man mister færre fisk. Dette sker ved, at agnen kan glide op af linen, når fisken er kroget, så den kan ikke bruge agnen til at slå sig selv af med, samtidig med at "Gedden" ikke ødelægger agnen lige så meget.
Bevægelsesmønstret på denne LTT er virkelig tæt på en rigtig levende ørred, og med feks. krogene skjult på ryggen, så kan selv en meget sky Gammelgedde næppe se forskel og vil ikke ane uråd de første mange gange og angribe hårdt & brutalt
LTT findes i 3 størrelser: 15cm + 20cm + 30cm. samt 7 Custom farver i begrænset periode!
LTT findes i alle modellerne i 2 varianter - en langsom synkende / Slow Sinking (SS) version, hvor linen kommer ind gennem munden, samt den findes i en moderat synkende / Moderat Sinking (MS) version, hvor linen kommer ind gennem panden. Den moderat synkenden model får derved en spilende effekt pga. det skæve træk oppefra, samt den er monteret med ekstra vægt også.
• Y-gennemløbs-system - kan du montere kroge på maven eller ryggen
• Super 3D detaljer
• Mesh forstærkede samlinger
• Unik dobbelt spike og stinger krog på 20 & 30cm-version
• EU-version pre rigget med 49 strand wire og kroge på agnen
• Turnering kroge medfølger
 
3D Trout Line Thru swim bait – made from a super detailed 3D scan of a Real Trout.
The Innovative line thru Y-system that allows you to put the hooks either on the back or on the belly, depending on how you want to fish the lure. When the fish attacks the lure and gets hooked, the lure shoots up the line and away from the fish – so the fish cannot use the weight of the lure to throw the lure!
 
The swimming action of the lure is a close to the real thing as you can imagine – it literally swims like a live trout and it can trick even the most clever pike to attack!
3 Sizes, 15cm, 20cm and 30cm SS & MS
7 NEW Custom col.
2 models available, a Slow sink (SS) version with the line coming thru the mouth for shallow presentation and a moderate sink (MS) with line coming thru the forehead – to create a "stay" down swimming pattern – so you can fish the lure at depth all the way to the boat!
Both sink rates have horizontal Balance on the drop!

• Y-Line Thru system – you can mount hooks on belly or back
• Superior 3D details
• Mesh reinforced joints
• Hook slot in the harness both belly and back
• Unique Double spike hook stinger hook for the 20 & 30cm version
• EU version pre rigged with 49 strand wire and hooks on belly
• Tournament hooks supplied
 
Savage Gear Line Thru Trout Custom

| | | | |
| --- | --- | --- | --- |
| Model / str. | Vejl. Pris | JoF pris | |
| Savage Gear Line Thru Trout Custom col. Firetiger 20cm MS (98g.) Moderate Sink (OL) | 169,- | 85,- | |
| Savage Gear Line Thru Trout Custom col. Firetiger 20cm SS (93g.) Slow Sink (OL) | 169,- | 85,- | |
| Savage Gear Line Thru Trout Custom col. Muddy Motoroil 15cm MS (40g.) Moderate Sink (OL) | 129,- | 65,- | |
| Savage Gear Line Thru Trout Custom col. Muddy Motoroil 20cm MS (98g.) Moderate Sink (OL) | 169,- | 85,- | |
| Savage Gear Line Thru Trout Custom col. Muddy Motoroil 20cm SS (93g.) Slow Sink (OL) | 169,- | 85,- | |
| Savage Gear Line Thru Trout Custom col. Oikawa 15cm SS (35g.) Slow Sink (OL) | 129,- | 65,- | |
| Savage Gear Line Thru Trout Custom col. Oikawa 20cm MS (98g.) Moderate Sink (OL) | 169,- | 85,- | |
| Savage Gear Line Thru Trout Custom col. Oikawa 20cm SS (93g.) Slow Sink (OL) | 169,- | 85,- | |
| Savage Gear Line Thru Trout Custom col. Perch 20cm MS (98g.) Moderate Sink (OL) | 169,- | 85,- | |
| Savage Gear Line Thru Trout Custom col. Smelt 15cm MS (40g.) Moderate Sink (OL) | 129,- | 65,- | |
| Savage Gear Line Thru Trout Custom col. Smelt 15cm SS (35g.) Slow Sink (OL) | 129,- | 65,- | |
| Savage Gear Line Thru Trout Custom col. Smelt 20cm MS (98g.) Moderate Sink (OL) | 169,- | 85,- | |
| Savage Gear Line Thru Trout Custom col. Smelt 20cm SS (93g.) Slow Sink (OL) | 169,- | 85,- | |
| Savage Gear Line Thru Trout Custom col. Tench 15cm MS (40g.) Moderate Sink (OL) | 129,- | 65,- | |
| Savage Gear Line Thru Trout Custom col. Tench 15cm SS (35g.) Slow Sink (OL) | 129,- | 65,- | |
| Savage Gear Line Thru Trout Custom col. Tench 20cm MS (98g.) Moderate Sink (OL) | 149,- | 75,- | |
| Savage Gear Line Thru Trout Custom col. Tench 20cm SS (93g.) Slow Sink (OL) | 149,- | 75,- | |
| Savage Gear Line Thru Trout Custom col. Ugui 20cm MS (98g.) Moderate Sink (OL) | 169,- | 85,- | |
| Savage Gear Line Thru Trout Custom col. Zander 15cm MS (40g.) Moderate Sink (OL) | 129,- | 65,- | |
| Savage Gear Line Thru Trout Custom col. Zander 15cm SS (35g.) Slow Sink (OL) | 129,- | 65,- | |
| Savage Gear Line Thru Trout Custom col. Zander 20cm MS (98g.) Moderate Sink (OL) | 169,- | 85,- | |
| Savage Gear Line Thru Trout Custom col. Zander 20cm SS (93g.) Slow Sink (OL) | 169,- | 85,- | |

mail@jagtogfiskerimagasinet.dk