25-08-2016 13:03:34
Westin SHAD TEEZ 220mm & 270mm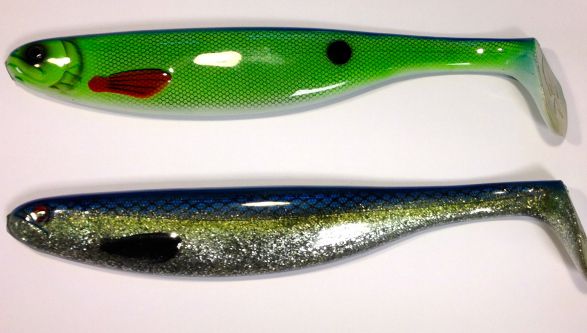 Col. 19: Bluegrass
Col. 3: Blue Glamour
Col. 7: Stamped Roach
Col. 5: Crystal Perch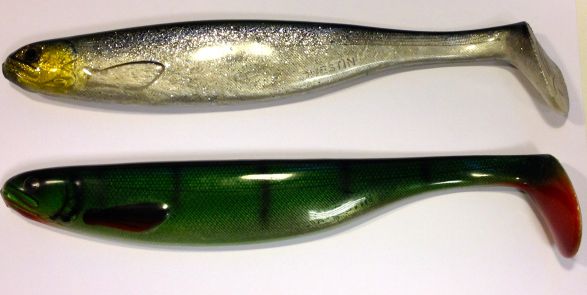 Westin SHAD TEEZ col. 2 Headlight
Col. 1: Wowperch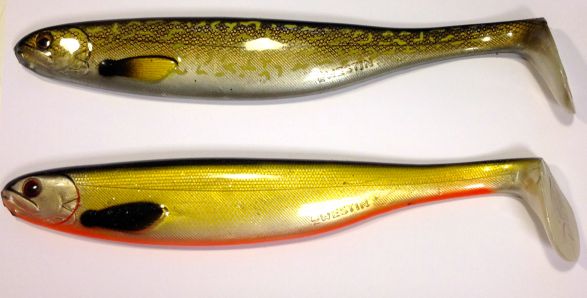 Col. 4: Natural Pike
Col. 6: Official Roach
Super flot finish, lækker rullende og provokerende gang i vandet som en klassisk Fox Pro shad. En agn med coating, som giver disse shads et look som en custummade jerkbait med epoxy-lak.
Fangstrapporter fra de sidste 14 dage i brakvandet taler for sig selv… Masser af store gedder er vilde med disse shads!!!
Vi lagerfører denne lækre agn i 8 fede farver og de 2 største str. på hhv. 22cm & 27cm.
Vi beklager fotokvaliteten, men vi kan godt røbe, at de er virkelig lækre LIVE!
Fisk dem enten med et jighoved med forskellig vægt an på fiskedybden eller med en "shallow-skrue" til det helt lave vand!
Husk at montere 1-2 stingers!
This stunning big fellow puts other shads in its shadow. So perfectly detailed in every way, Shad Teez even has a double layer of clear coating to give a realistic "fish-slime" look! The deep body, slender wrist and wide tail create a rolling, belly-flashing swimming action that leaves big predators spellbound. Shallow-rigged and bumbled slowly past brackish reed beds, or deep-rigged it's imitating a mildly wounded panicking fish, you'll find your personal best attached to your line in no time at all!
• Optimized flexibility

• Realistic Eyes

• Easy action paddle tail

• Double-layer life-like scale pattern

• High body design with great belly flash

• Hand painted detailed colors

• Airchamber in tail
Westin SHAD TEEZ

| | | | |
| --- | --- | --- | --- |
| Model / str. | Vejl. pris | JoF pris | |
| Westin SHAD TEEZ 220mm Col. 1: Wowperch | 69,- | 59,- | |
| Westin SHAD TEEZ 220mm Col. 2: Headlight | 69,- | 59,- | |
| Westin SHAD TEEZ 220mm Col. 3: Blue Glamour | 69,- | 59,- | |
| Westin SHAD TEEZ 220mm Col. 4: Natural Pike | 69,- | 59,- | |
| Westin SHAD TEEZ 220mm Col. 5: Crystal Perch | 69,- | 59,- | |
| Westin SHAD TEEZ 220mm Col. 6: Official Roach | 69,- | 59,- | |
| Westin SHAD TEEZ 220mm Col. 7: Stamped Roach | 69,- | 59,- | |
| Westin SHAD TEEZ 220mm col. 10 Lava Perch | 69,- | 59,- | |
| Westin SHAD TEEZ 220mm col. 13 Danebro | 69,- | 59,- | |
| Westin SHAD TEEZ 220mm col. 16 Demon | 69,- | 59,- | |
| Westin SHAD TEEZ 220mm col. 17 Crazy Deal | 69,- | 59,- | |
| Westin SHAD TEEZ 220mm col. 18 Real Deal | 69,- | 59,- | |
| Westin SHAD TEEZ 220mm Col. 19: Bluegrass | 69,- | 59,- | |
| Westin SHAD TEEZ 270mm Col. 1: Wowperch | 89,- | 79,- | |
| Westin SHAD TEEZ 270mm Col. 2: Headlight | 89,- | 79,- | |
| Westin SHAD TEEZ 270mm Col. 3: Blue Glamour | 89,- | 79,- | |
| Westin SHAD TEEZ 270mm Col. 4: Natural Pike | 89,- | 79,- | |
| Westin SHAD TEEZ 270mm Col. 5: Crystal Perch | 89,- | 79,- | |
| Westin SHAD TEEZ 270mm Col. 6: Official Roach | 89,- | 79,- | |
| Westin SHAD TEEZ 270mm Col. 7: Stamped Roach | 89,- | 79,- | |
| Westin SHAD TEEZ 270mm col. 10 Lava Perch | 89,- | 79,- | |
| Westin SHAD TEEZ 270mm col. 13 Danebro | 89,- | 79,- | |
| Westin SHAD TEEZ 270mm col. 16 Demon | 89,- | 79,- | |
| Westin SHAD TEEZ 270mm col. 17 Crazy Deal | 89,- | 79,- | |
| Westin SHAD TEEZ 270mm col. 18 Real Deal | 89,- | 79,- | |
| Westin SHAD TEEZ 270mm Col. 19: Bluegrass | 89,- | 79,- | |

mail@jagtogfiskerimagasinet.dk
Se andre produkter fra samme mærke
Westin