25-03-2017 23:19:06
Stanglak - Aftcote Rod Finish 2oz. kit.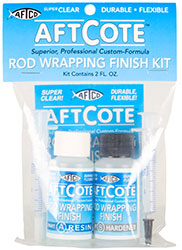 Verdens stærkeste og bedste 2 komponent fleksibel klar stanglak fra en af verdens førende stang-dele producenter i USA; AFTCO.
Kittet lev. med 2 stk. 1oz. flasker med hærder og retsin. Dermedfølger 2 stk. plastic strøjter til dossering.
Et kit til rigtig mange beviklinger til hjemmestangbyggeren eller suveræn til rep. af eksisterende stangbeviklingr, som er ved at gå op på ynglingsstangen.
AFTCOTE, the world's finest rod wrap finish, is a special two-part urethane modified, custom mixed epoxy, with superior qualities developed for specific use as finish on fishing rods. UV-resistant, AFTCOTE resists yellowing and is extremely durable, yet flexible to resist cracking and checking. It won't absorb water, so it doesn't turn milky, and its urethane base has superior working qualities - water white clarity, self-leveling, longer working time, and easy bubble release. AFTCOTE cures with a super high-gloss sheen, and it has a longer shelf life than other rod finishes. It is the perfect finish for custom fishing rods used in fresh or saltwater applications. Available in case packs only!
Stanglak - Aftcote Rod Finish

| | | |
| --- | --- | --- |
| Model / str. | JoF pris | |
| Stanglak - Aftcote Rod Finish 2oz. kit (2 komponent) | 299,- | |

mail@jagtogfiskerimagasinet.dk
Se andre produkter fra samme mærke
AFTCO