Kvalitets eneklt kroge produceret i Japan til det inovative New Zealandske Offshore Brand; Black Magic.
En serie super skarpe enkeltkroge til mange former for fiskeri, hvad enten de skal bruges som fluekrog til GT'er i Syden, som OFFSHORE hav medekrog eller krog til jigs og pirke.
Teflon overfladebehandlet serie for lang levetid i saltvand og skærpet på fire leder.
Let indadbøjet krogspids & kortskaftet krog med lige øje.
Vi fører modellen i str. 5/0 ( 15stk. pk.) + 6/0 (11 stk. pk.).
Der er differencieret antal pr. pakke i forhold til str. på krogene.
If you are looking for high performance hooks, no brand puts more passion and energy into innovative design and creation than the team at Black Magic Tackle.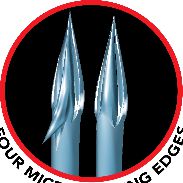 When you try the DX Point® you will experience first-hand the results of extensive research and development. The protective non-stick coating, coupled with the highly engineered point, makes this a truly revolutionary hook.