19-05-2022 15:28:48
Daiwa 21 Zillion SV TW
Her har vi at gøre med en fantastisk lavprofils hjul fra Daiwa. Hjulet er designet ud fra HYPERDRIVE designet, som efter vores mening er et fantastisk design.
Dette hjul har gjort sig godt i de skandinaviske vande (primært hos predatorfiskeren) efter gedder, sandart og aborre. 
Læs nedenfor Daiwas egen beskrivelse:
Few baitcast reels share the same reputation as the original Daiwa Zillion. A strong and durable bait cast reel capable of handling anything you can throw at it. Zillion has found its place in Scandinavia, where durability and strength are of the utmost importance. The brand-new 21 Zillion SV is the first total redesign of Zillion in many years. The heart of it all is a brand-new technology HYPERDRIVE Design. A concept incorporating multiple aspects of reel design to deliver a baitcast reel with few peers.

HYPERDRIVE Digigear is the next evolution of baitcast gear design, taking Daiwa's Digigear concept to the next level to produce a smoother and stronger reeling sensation with a significant 60% improvement to gear durability.

HYPER Double Support improves the support of the pinion gear. This support in turn helps to extend gear life and increase winding power under load.

Zillion's other brand-new feature is an evolution of Daiwa's SV Concept. SV BOOST is a brand-new two-stage SV concept design that significantly increases casting distance in the latter part of the casting sequence. Zillion's two-stage SV BOOST design delivers the precise amount of breaking resistance at each stage of the cast, allowing the angler to perfectly account for varying scenarios they may face when on the water. 

SV BOOST will have anglers experiencing effortless long-casting performance and the SV Concept will mean that Zillion is as versatile as ever.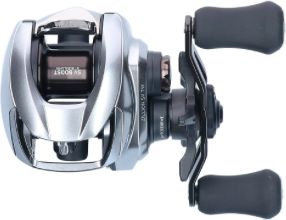 Specifikationer på Daiwa 21 Zillion SV TW :
- SV-BOOST spool (G1 AL) 
- Magforce AIR 
- HYPER DRIVE DESING 
- HYPER DRIVE DIGIGEAR, brass 
- HYPER DOUBLE SUPPORT 
- HYPER ARMED HOUSING, aluminium 
- HYPER TOUGH CLUTCH
- T-Wing System (TWS) 
- i-shape handle knobs 
- UTD Drag, max power 5kg 
- 90mm aluminium handle
- Clicking drag
Vi har model 100HL G på lager:

Se Daiwa's egen video omhandlende hjulet her:
- https://youtu.be/iLlscRMXlhI?list=TLGG3SsCs4iRXvcxOTA1MjAyMg

mail@jagtogfiskerimagasinet.dk
Se andre produkter fra samme mærke
Daiwa