23-03-2021 10:57:59
Daiwa Morethan Branzino AGS 97ML 7-35G.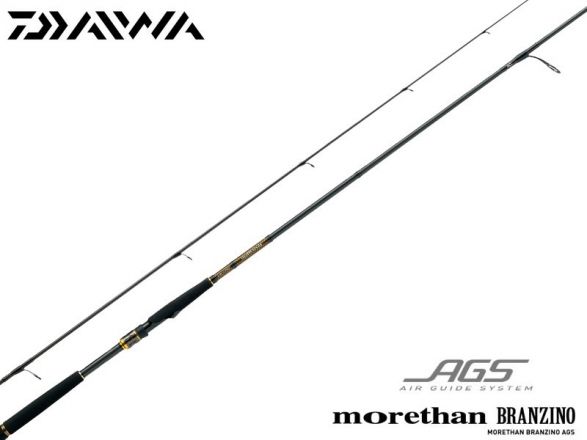 Daiwa Branzino AGS (Air Guide System) er en hysterisk udvikling af de populære Japanske Morethan stænger!
Eksklusiv Super hurtig SVF Compile-X kulfiber klinger, kombineret med ultra letvægts AGS kulfiber løberinge giver denne stang en super lethed og virkelig hurtig aktion med fantastisk god kontakt og føling til både agn og fisk.
Branzino AGS er Daiwa's High End Range inden for spinnestænger til fastspolehjul produceret i Japan. Klingen spænder bredt med stor anvendelse! Kastekanoner til kysten, fjorden og søen
Se & oplev den LIVE i shoppen & overrasket over at en fiskestang kan reagere så hurtigt :-)
Modellen vi fører, som er udviklet til klassisk vadefiskeri, men som også kan bruges andre steder :
MORETHAN BRANZINO AGS 97ML
DEMON WADING CUSTOM
EVA skumhåndtag
Længde: 292cm / 9'7'' Kastevægt: 7-35g. 2pc.
Transportlængde: 150cm.
Egenvægt KUN: 130gram!!!
Monteret med 9 stk. AGS kulfiber øjer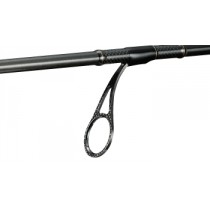 MORETHAN BRANZINO AGS 97ML Demon Wading Custom
Light spinning rod

This rod combines power and sensitivity. The somewhat shorter handle section cares for a better control during wading – perfect when you are wading in deep water. The strong backbone ensures an optimal bite yield and also absolute control during the fight with big fish. Perfect for fishing for sea trouts.

The AGS guides provide an extreme fast action and optimize the casting accuracy. You probably won't find a faster rod at the market.
Super SVF® Compile-X carbon fiber blank
Super Multi Taper
V-Joint® spigot joint
Micro-Pitch taping
AGS® carbon fiber guides
Double wrapped guides
Japanese Hard EVA handle material
Made in Japan
With the Moethan Branzino AGS rods DAIWA presents another milestone of rod engineering.

Via the combination of Super SVF™ Compile-X carbon fiber material with the ultra-lightweight AGS carbon fiber guides, the construction of extreme fast and distortion proof rods with no torque has become achievable. Extreme long and precise casts are the consequence.

Depending on the model the Branzino AGS rods are ideally suitable for wade fishing for seatrout und for fishing with small plugs und plastic lures for zander, asp and pike..
 
Super multi taper - depending on the strain the whole blank absorbs flights and pressure from the tip to the handle
Super SVF™ Compile-X carbon fiber - the maximum carbon fibre amount provides a fast action and super light weight
V-Joint™ connection - an absolute harmonic bending curve enables an action like one-piece rods
Micro-Pitch Taping - extreme tight woven carbon fiber mats provide maximal blank power. All blanks are not sanded
AGS carbon fibre guides - extreme lightweight and distortion proof
Double wrapped guides for maximal lifespan
Japanes Hard-EVA handle material
Made in Japan
Daiwa Morethan Branzino AGS

| | | | |
| --- | --- | --- | --- |
| Model: | Kastevægt: | JoF Pris: | |
| Daiwa MORETHAN BRANZINO AGS 97ML DEMON WADING CUSTOM Spin | 7-35g. | 5.299,- | |

mail@jagtogfiskerimagasinet.dk
Se andre produkter fra samme mærke
Daiwa