20-01-2016 23:16:03
Fish Phone Underwater Wifi camera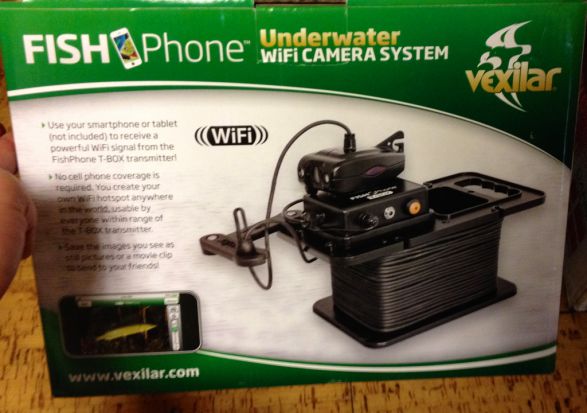 Super genialt undervandskamera, som sender livebilledet fra boksen og via en Gratis app direkte til din smart-phone / Tablet eller Computer imens du fisker :-)
Kameraet er monteret med 50 fod ledning / kabel fra transduceren og op til sende-boksen.
Dvs. den dækker fiskedybder ned til 50 fod / 16-17 meter vand.
Der er mulighed for at tænde 2 lys på transduceren, så man ser meget mere under vandet i mørk og grumset vand eller når det er mørkt :-)
Bruger 12v. batteri, som ikke medfølger
Vexilar FP100
Fish Phone Mobile App & Camera System
As the name implies, FishPhone turns your smart phone or tablet into a fully functional underwater camera monitor. Now anyone with a smart phone or tablet will get a high quality video image delivered right to the palm of your hand. Using Wi-Fi signal technology to create its own hotspot that reaches out 100 feet in all directions, so you can share your video signal with as many friends as you like or keep it totally secure. You dont need cell phone coverage to use it, the FishPhone works anywhere in the world. The FREE software App is downloaded from the App store and works with both Android and IOS systems.
FishPhone is a stand alone, fully functional, Smart Phone controlled system that allows you to record video or still images and easily send it off to your friends in an e-mail or text.
The FishPhone comes with a unique holder and battery pack system that makes it easy to carry and manage 50 feet of cable. The portable FishPhone pack system can power your FishPhone for six hours between charging. The camera used in the FishPhone system is a Sony Color/ B&W camera that automatically shifts from color to black and white when light conditions are limited to increase contrast. There is little doubt underwater camera technology is getting lighter and more portable and with the FishPhone, Vexilar will be changing the way people look at underwater camera systems.
Pris: 3.499,-



Tilføj til indkøbsliste
mail@jagtogfiskerimagasinet.dk