14-05-2018 22:56:02
Simms Freestone vest 2018 model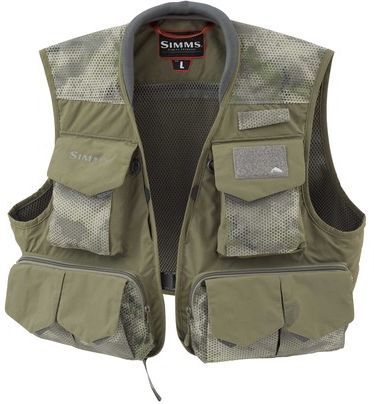 Farve: Hex Camo Loden og Smoke

Str.: S - XXL (Lager M-XXL)

Kvalitets vest fra amerikanse Simms. Freestone Vesten er deres billigste i serien, men er til gengæld meget populær og kan opfylde de fleste lystfiskeres behov.
Nedenstående ses produktbeskrivelsen fra Simms:
 
A streamlined fishing vest inspired by the beauty of freestone rivers.
When the seasons change and the rising waters on your favorite river begin bubbling with hungry fish, be ready to seize the moment. Simms' Freestone Vest takes inspiration from the unimpeded beauty of freestone rivers like Montana's Madison and Idaho's Big Wood. The streamlined design includes 19 intuitive organizational pockets. A soft padded collar and lightweight, breathable shoulders add comfort from dawn until dusk.
KEY FEATURES:
Improved fabric with self‐fabric binding tape
19 Pockets:
4 Chest Pockets
2 large front vertical side-entry pockets
4 waist pockets
2 large zippered horizontal waist pockets
4 internal pockets
2 internal large zippered horizontal waist pockets
1 horizontal back pocket
Padded rib knit collar
YKK® buckle closure & 100% YKK® zippers
Simms Freestone vest

| | | |
| --- | --- | --- |
| Model / str. | Vejl. Pris | |
| Simms Freestone vest Hex Camo Loden Str. L | 999,- | |
| Simms Freestone vest Hex Camo Loden Str. M | 999,- | |
| Simms Freestone vest Hex Camo Loden Str. S (Bestillingsvare) | 999,- | |
| Simms Freestone vest Hex Camo Loden Str. XL | 999,- | |
| Simms Freestone vest Hex Camo Loden Str. XXL (Bestillingsvare) | 999,- | |
| Simms Freestone vest Smoke Str L | 999,- | |
| Simms Freestone vest Smoke Str M | 999,- | |
| Simms Freestone vest Smoke Str S (Bestillingsvare) | 999,- | |
| Simms Freestone vest Smoke Str XL | 999,- | |
| Simms Freestone vest Smoke Str XXL (Bestillingsvare) | 999,- | |

mail@jagtogfiskerimagasinet.dk
Se andre produkter fra samme mærke
Simms®