09-06-2022 09:04:41
Simms G4 Pro Stockingfoot - 2020
G4 Pro Stockingfoot
Our most durable wader features a new, proprietary fabric from GORE-TEX® proven over 16,000 hours of field testing. Make the most of your time on the water: Head out in the most feature-laden, abrasion-, puncture- and tear-resistant wader made.
Features
Adjustable spacer air-mesh suspender system with net D-ring
Comfort Molded Bootie: Outside
Comfort Molded Bootie: Inside
Sharkfin Hemostat Buckle
Compression molded foam minimizes lace bite, improves toe mobility, & enhances boot fit.
Compression molded foam improves ankle/calf boot fit, & provides added ankle support/padding.
Zippered, micro-fleece lined hand-warmer pocket(s) for strategic storage & cold-weather repreive
Built-in, lower profile GORE-TEX® belt loops for enhanced strength & durability
3-layer GORE-TEX® Pro Shell upper for breathability
4 layer GORE-TEX® Pro Shell lower for rugged durability in the water & on the trail
Patented front & back leg seams for effortless mobility and increased durability
Patented 2mm abrasion resistant built-in gravel guards
Patented compression-molded anatomically engineered stockingfeet for enhanced comfort and improved boot fit
Tech
3-layer GORE-TEX® Pro Shell upper, 4-layer GORE-TEX® Pro Shell lower & seat
GORE-TEX® PERFORMANCE SHELL
GORE-TEX® Performance Shell outerwear is waterproof, lightweight, durable and breathable. It's designed to provide excellent, long-lasting performance in a wide range of conditions.
The GORE-TEX® membrane is the heart of all GORE -TEX® products. The GORE-TEX® membrane contains 9 billion microscopic pores per square inch. These pores are so small that water droplets cannot get through but water vapor can still escape. Water from the outside cannot penetrate and cold winds cannot pass through, but perspiration can escape easily, keeping you dry and comfortable all day. GORE-TEX® fabrics are created by integrating the GORE-TEX® membrane between an outer fabric and lining.
MADE IN USA
Proudly made in Bozeman, Montana, USA.
YKK® ZIPPERS
All Simms outerwear features nylon YKK® zippers to minimize corrosion and provide high performing, durable wear.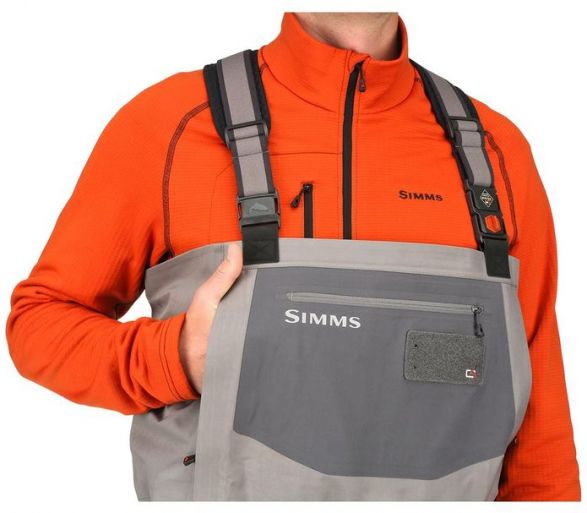 Waders tåler ikke fugt!!!
Fugt er den hurtigste vej til mug.
Mug angriber dine waders og nedbryder dem, hvilket kan resultere i delaminering, løs sømtape og derved også utætheder.
Når limede flader først bliver gule i farven, har limen været angrebet af mug - hermed bortfalder garantien.
Læs derfor nedenstående gode råd om vedligehold af dine waders og anden åndbar beklædning.
Almen vedligehold:
Det er vigtigt at dine waders og anden åndbar beklædning bliver tørret hurtigst muligt efter brug.
Ellers kan mug fremkomme og derved ødelægge dit produkt.
Det er derfor vigtigt, at du hænger dit produkt i et lunt, tørt og ventileret lokale. Waders skal vendes på vrangen, så de får lov at tørre indvendigt først, herefter vendes de igen så ydersiden kan tørre helt. Vær særlig opmærksom på neopren sokkerne, da de er noget længere om at tørre.
Hvis du fisker dagligt over længere perioder(mere end en weekend) eller så ofte, at dine waders ikke kan nå at tørre mellem hver tur, anbefaler vi, at du har to par waders at skifte imellem.
Når produktet er tørt, bør det opbevares tørt og køligt(stue temp.).
Pinholes:
Er små punkteringer som kan opstå ved kontakt med torne, fiskekroge, skarpe sten og lign.
Disse udbedres relativt let ved hjælp af Auqasure. På GoreTex produkter kan hullet lokaliseres ved hjælp af sprit(Isopropyl alkohol)
Se fuld vedledning på engelsk: http://flyfisheurope.com/ffe/warranty/
Oplever du et problem med dit produkt så kontakt os gerne inden du selv forsøger at udbedre fejlen.
Se med her, hvor den fede waders præsenteres:
| | | | |
| --- | --- | --- | --- |
| Model | Beskrivelse | Pris | |
| Simms G4 Pro str L 9-11 | Stockingfoot | 7.699,- | |
| Simms G4 Pro str L 9-11 | Stockingfoot | 7.699,- | |
| Simms G4 Pro str L 12-13 | Stockingfoot | 7.699,- | |
| Simms G4 Pro str L 12-13 | Stockingfoot | 7.699,- | |
| Simms G4 pro str LK 9-11 | Stockingfoot | 7.699,- | |
| Simms G4 Pro str LK 9-11 | Stockingfoot | 7.699,- | |
| Simms G4 Pro str LKS 9-11 | Stockingfoot | 7.699,- | |
| Simms G4 Pro str LL 9-11 | Stockingfoot | 7.699,- | |
| Simms G4 Pro str LS 9-11 | Stockingfoot | 7.699,- | |
| Simms G4 Pro str M 9-11 | Stockingfoot | 7.699,- | |
| Simms G4 Pro str ML 9-11 | Stockingfoot | 7.699,- | |
| Simms G4 Pro str MS 9-11 | Stockingfoot | 7.699,- | |
| Simms G4 Pro str S 9-11 | Stockingfoot | 7.699,- | |
| Simms G4 Pro str XL 12-13 | Stockingfoot | 7.699,- | |
| Simms G4 Pro str XLS 9-11 | Stockingfoot | 7.699,- | |
| Simms G4 Pro str XXL 12-13 | Stockingfoot | 7.699,- | |

mail@jagtogfiskerimagasinet.dk