Unrigged kvalitets BIG GAME Bird Teaser / Conerhead, der findes i flere størrelser.
En suveræn overflade TEASER eller Big Game agn til Tun, Marlin, Sværdfisk, Albacore, Pelamider mm.
Bird Standard er 9,6'' / 24cm. lang.
Bird Little er 4,6'' / 11cm lang.
Et gennemtestet produkt fra amerikanske Mold Craft Lures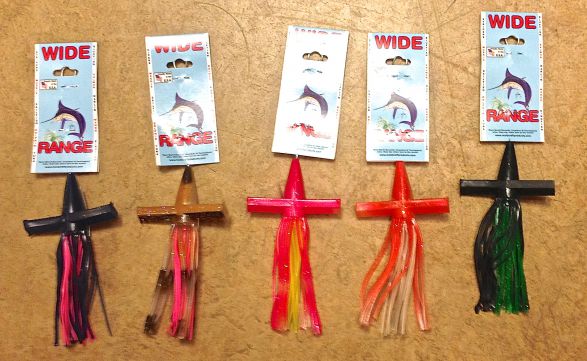 Lev. uden krog og forfang.
Produceret i virkelig slagfast blød
plast med meget bevægeligt skørt uden belastning.
Super holdbar agn med ekstra kraftigt gennemløbsrør mm.
Findes i flere hotte farver:
Farve: Nr. 21PINK/WHITE/YELLOW
Farve: Nr. 24 BLACK/MAGENTA

Farve: Nr. 36 MAC/SILVER/PINK

Farve: Nr. 40 BROWN/WHITE/PINK
Farve: Nr. 56 BLACK/GREEN
Originally a Japanese invention for raising deep-feeding yellowfin and bigeye tuna to trolled surface lures, bird teasers have made the transition to the game fishing scene with great success. They still work on tuna, but marlin, sailfish and other game species find them irresistible as well.
Mold Craft make Soft Birds in three sizes — small, medium and large — and these incredible lures/teasers can be used in a variety of ways. Spreader Bars or as a daisy chain, a flotilla of Little Birds really rips up the ocean. The effect it has on tuna species from albacore, bluefin and yellowfin has to be seen to be believed! Of course, marlin and sailfish find them irresistible as well, but their use as tuna teasers is definitely an underutilized technique.
The medium and large Soft Birds also make excellent teasers, either rigged singly, as a daisy chain, or mixed with Mold Craft Squirt Squids on a spreader bar. Their fluttering, 'wave walking' action certainly attracts the attention of predators and while most people use them as teasers, Soft Birds are also extremely effective lures in their own right.
Mold Craft Soft Birds can be rigged ahead of a conventional lure for added attraction, and the all-tackle world record Atlantic blue marlin of 1402 pounds ate a lure with a Mold Craft Senior Bird rigged ahead of it on the leader. Soft Birds are available in all Mold Craft Colors (see color chart)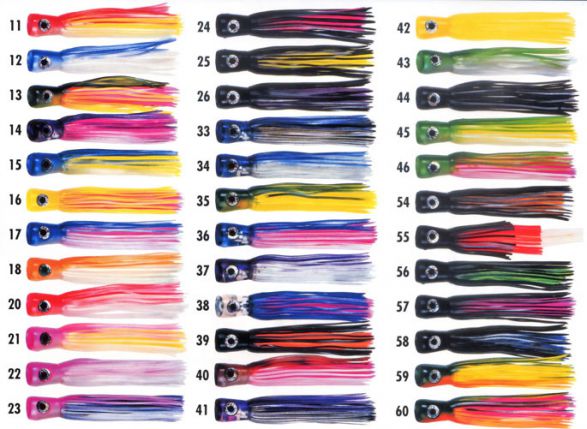 NB! Skemaet herover viser kun farverne - modellen ser ikke sådan ud!