06-03-2017 15:02:29
Westin W6 JIGGING 5'2'' Spin & Trigger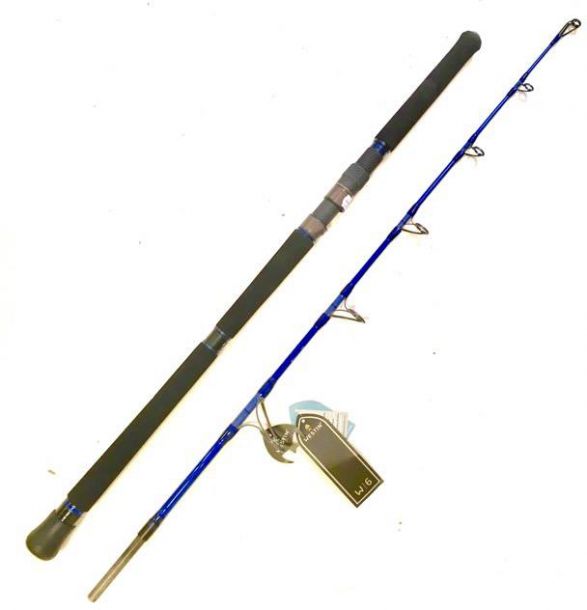 En serie super kompakte & meget rejsevenlige jiggingstænger til både Spinnehjul & multi.
Masser af overskud & produceret i Japansk Toray Carbon.
Monteret med krydsbunddup & luksus Fuji fittings.
Dette er 3. genneration af deres super populære stænger til Amberjacks, Tun, Grouper mm.
This speed jigging rod puts an end to the airport check in counter quarrels and the struggles of a lost rod barrel once you reach your dream destination. A two-section rod design makes it easier than ever to fit you rods in a suitcase, backpack or duffel bag to conquer the growing jungle of airport restrictions. On a rod made to wrestle some of the biggest and strongest fish designing a joint takes special attention. The mission of our rod designers was to make sure even the best reels broke before the rod. They succeeded and created the ultimate strength travel rod for speed jigging with large fixed spool reels.
Saltwater super grade EVA handle
Reel Seat: Fuji® DPS with unique rubber coating
Guides: Fuji® SiC MN
Blank: 'TORAY' High Performance Carbon for superior action and casting
Reinforced with 90° Carbon
Aluminum Cross Gimbal
Pac Bay Rubber Gimbal Cover
Delivered in padded cloth bag
Unique serial number on all rods
PE4- 8 Max Power 33 kg
Westin W6 JIGGING

| | | |
| --- | --- | --- |
| Model / str. | JoF pris | |
| Westin W6 JIGGING 5'2 Spin 250-400g. 2pc. Blue - Transportlængde: 89,5cm. | 3.199,- | |
| Westin W6 JIGGING 5'2 Trigger 80-220g. 2pc. Blue - Transportlængde: 98cm. | 3.199,- | |
| Westin W6 JIGGING 5'2 Trigger 250-400g. 2pc. Blue - Transportlængde: 98cm. Bestillingsvare 2-5dg. | 3.199,- | |

mail@jagtogfiskerimagasinet.dk
Se andre produkter fra samme mærke
Westin