18-02-2021 12:19:09
PENN® INTERNATIONAL® V Big Game Stænger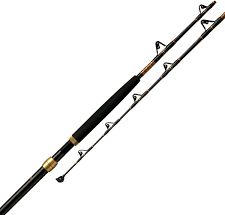 High End Big Game 2pc. fiskestænger på 6'10'' 50lbs IGFA fra Amerikanske Penn.
En af de mest populære og mest pålidelige Trolling fiskestænger på markedet!
Et godt valg til småbådsfiskeren, som vil prøve kræfter med tun, sværdfisk, hajer mm i feks Adriaterhavet, Middelhavet, Atlanten el.lign.
Super stærke sorte klinger med sorte Pac. Bay rulleøjer (5 stk + topøje), super stærkt aluminium lige bundstykke med kryds, aluminium hjulholder, Blødt, sort & langt EVA skum forhåndtag.
Klingen er afsluttet med beviklinger i sort & guld tråd, og den har et ekstra tykt lag epoxy her omkring og et flot look.
Stangen er 2delt i håndtaget & har massivt bundstykke i aluminium
NB! Leveres inkl. læder stangpose med velcro!
Vi har gjort et godt køb og sælger derfor disse super stænger til en ekstra nedsat pris så længer lager haves!
Transportlængde: 165cm.
1 piece hollow e-glass construction
Aftco roller guides (select models)
Pac Bay turbo guides (select models)
EVA fore grips
Stuart Aluminum straight butt section (Bent butt designated as B in model number)
Aluminum gimbal
Built PENN tough, the International® V IGFA chair rods feature a one- piece tubular construction rod with a parabolic taper that is ideal for fighting fish from the chair, applying maximum pressure to the fish with a mechanical advantage in favor of the angler.

Paired with an International V series reel, any angler becomes a formidable opponent to the largest offshore species. Between ideal tapers and quality craftsmanship, International V IGFA rods should be your first choice when looking for an offshore trolling rod.

Aftco Roller Guides. Every International V IGFA rod is equipped with Aftco® Roller Guides which eliminates strain on the angler and gives them added leverage allowing them to bear down on tournament winning fish with no worries.

Stuart® Aluminum Butt Section/ Butt section inset shot (one on one detached.) The International V IGFA boat rods come with a detachable lightweight Stuart® aluminum butt section for unmatched strength and versatility.

Stuart Aluminum Reel Seat. Stuart components provide increased strength and aluminum butts allow for easy access in and out of the rod holder.

EVA Foregrip. EVA foregrips give anglers added comfort for long battles and maximize grip against hard pulling fish.
PENN INTERNATIONAL V IGFA

| | | | |
| --- | --- | --- | --- |
| Model / str. | Vejl. Pris | JoF pris | |
| PENN® INTERNATIONAL® V IGFA 6'10'' 20LBS AFTCO Roller | 4.999,- | 3.499,- | |
| PENN® INTERNATIONAL® V IGFA 6'10'' 50LBS AFTCO Roller | 4.999,- | 3.499,- | |

mail@jagtogfiskerimagasinet.dk
Se andre produkter fra samme mærke
Penn