04-12-2023 18:34:57
Geoff Andersson Gingo - RESTSALG!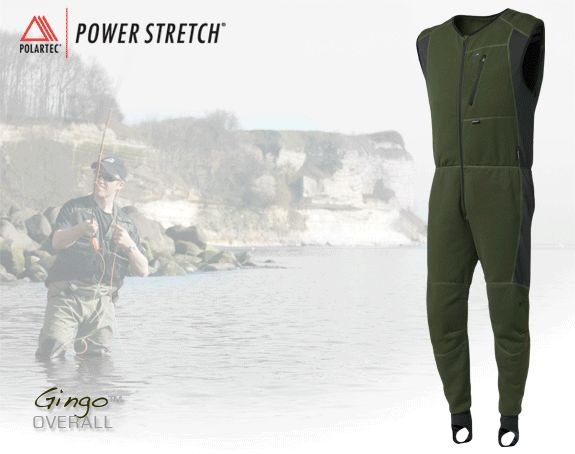 Lækker Polar-tech Power stretch fleece heldragt / overall med virkelig god isoleringsevne og Rigtig mange gode detaljer! Et oplagt valg som mellemlag til outdoor folket, lystfiskeren i waders, til brug i tørdragt, isfiskeren, bådfiskeren eller sågar til jægeren. Du skiller ikke på midten, som man tit kan komme til ved 2 delte sæt, og du får desuden et relativt tyndt mellemlag med stor isoleringsevne og super bevægelighed.
Findes i str. Xs - XXXL
Gingo ™ The ultimate midlayer !

The tight fit and the avoidance of fittings makes Gingo™ the perfect insulation underneath eg. waders.
Technical highlights:
Polartec® Power Stretch® fabrics feature
body-hugging 4-way stretch and are very breathable.

It keep you dry when you sweat and provide warmth without weight.

Polartec® Power Stretch® is the most versatile outdoor and fitness apparel fabrics available today.

Gingo™ feature a proprietary construction with two unique surfaces: the durable nylon outer layer is wind- and abrasion-resistant; the soft inner layer pulls moisture away from your skin keeping you dry, warm and comfortable.

Gingo™ feature compression stretch which can improve performance and reduces the chance of certain types of stop-go injuries. All the fabrics excel at handling the demands of the next-to-skin environment.
Sizes: XS-XXXL.
Colour: Rosin green with grey trims.
How does it work
Moisture and high relative humidity next to the skin cause discomfort.
Polartec® Power Stretch® keeps the skin dry through three complementary mechanisms:
1) The fabric is highly breathable and does not restrict the movement of moisture vapor.
2) "Touch Points" on the fabric inner surface draw off the sweat.
Sweat is wicked off the skin to the outside of the fabric, where it spreads rapidly for evaporation.
3) When the sweat reaches the outside of the fabric, it spreads out to many times its original surface area, enabling it to dry at least 2 times faster than cotton.
Technical Highlights
Body-hugging 4-way stretch provides unrestricted freedom of movement.
Keeps your skin dry when you sweat.
Highly breathable to provide comfort in all activities; does not restrict the movement of moisture vapor.
Provides warmth without the weight and bulk of traditional insulating fabrics.
Wind resistant to reduce the effects of wind chill.
Machine washable.
NB! Der er 2-4dg. lev. på disse dragter / de ligger på fjernlager !

mail@jagtogfiskerimagasinet.dk