Virkelig lækkert Japansk produceret High-End Big Game spinnehjul fra Shimano.
Dette Twinpower SW 14000B XG er en virkelig slider med overdimensioneret og ekstra stærk gear, vandtæt bremsesystem, perfekt lineoplæg, flydende bagstop mm.
Monteret med oversize sort gummi-håndtag.
Gearing: 6,2:1
Vægt: 641g.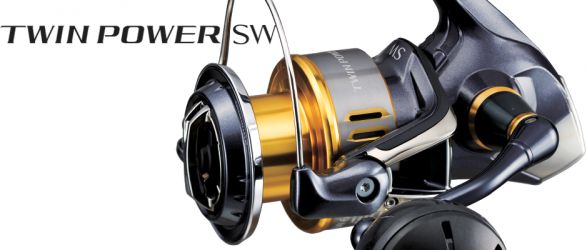 Max. bremsetryk: 25kg.
11 kuglelejer + 1 rulleleje.

Leveres incl. shimano hjultaske/itui, afstandsskiver, Line-elastik + brugsanvisning/stregtegning.
NB! Der medfølger kun 1 spole med og denne har ikke lineclips.

Gear Ratio
6.2
Practical drag power
18.0kg
MAX Drag
25.0kg
Spool dimension
(diameter mm / stroke mm)
Weight
641g.

Line Capacity
Nylon

12lbs/555yd, 16lbs/360yd, 20lbs/260yd




Braid:

50lbs/400yd, 65lbs/315yd, 90lbs/240yd

Maximum winding Retrieve
(cm/one crank)
134cm
Length of Handle(mm)
60mm
Number of bearings
(*S A-RB/roller)
11/1
Twin Power SW
For serious saltwater fishing action, the all-new Twin Power SW spinning reels fuse Shimano technology for a reel with overwhelming power, durability and reliability to tackle any situation in any condition. Within the Twin Power SW series, anglers will uncover Shimano HAGANE reel design concept for the ability to fight big, powerfi fish with confidence.
New Twinpower SW has "HAGANE" systems which give long life stongness and toughness to the body and gear.
Also 2015/2016 New Twinpower SW has Core Protection, X-ship, X-RIGID ROTOR, X-SHIELD and other latest Shimano's technologies.