15-03-2016 15:46:46
Shimano Stella 2000S - 2500 + 3000 + 4000 Fi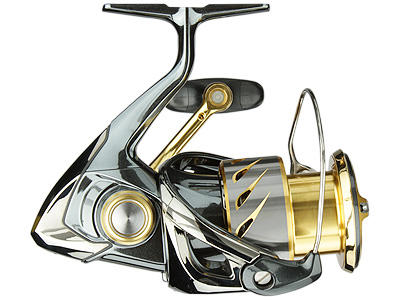 De nye Shimano Stella er landet i shoppen og der er virkelig sket mange forbedringer ! :-)

Der er 4 størrelser at vælge imellem i det nye yophjul, str. 2000S - 2500 - 3000 - 4000 - alle er differencerede størrelser hjulhus og str. 4000 er igen med dyb spole.
Der er sket virkelig mange forbedringer på de nye hjul, kraftigere, større og stærkere tandhjul, hvor man specielt har kigget efter Stella SW (saltwater). Dette skulle give længere levetid.
Shimano Stella SW - saltvandsudgave i butikken. Bliver Stella FI med samme opgraderinger så er der virkelig noget at glæde sig til.
Du kan allerede nu reservere dit nye Stella FI ved at ligge i kurv, da der kun kommer få hjul til landet!
Vejl. pris 6199,-
Intro tilbud kun i begrænset periode:
4995,-
The best just got better. Introducing the newest incarnation of Shimano's iconic flagship spinning reel - the Shimano Stella FI Series.
Packed with the latest and most advanced technologies Shimano has at its disposal, Shimano was able to do the impossible - make the smoothest most balanced reel in the world even more so. The Shimano engineers also increased new Stella FI's power and torque far beyond what was previously thought possible with a spinning reel. And if that wasn't enough, they stepped up its durability as well by virtually eliminating water from entering the reel.
It's new G-Free Body moves the oscillation system from where it is traditionally housed - below the drive gear - and places it closer to the center of the reel. This greatly enhances the reel's balance by moving weight closer to your hands, eliminating any hint of wobble. The new Micro Module Gear System also provides improved gear alignment, as well as, more power and torque thanks to the use of more micro teeth on the main gear and pinion gear.
The new S-Direct Drive System picks up from there, allowing the handle to screw directly into the drive gear - for a pure transfer of power that makes it ounce-for-ounce one of the most powerful spinning reel ever created. The new S-Direct Drive System also eliminates all back play, and Shimano's Core Protect delivers a major upgrade in durability by keeping water out of the reel's inner workings and thus greatly increasing its life. Precision-engineered to the smallest tolerances possible, the Shimano Stella FI Spinning Reel delivers next generation performance and stays at the top of the class.
Shimano's iconic Stella Spinning Reel has returned. The Stella FI Spinning Reels are more powerful and durable than ever before with a whole new level of smoothness and balance you have to feel to believe.
Shimano Stella 2000S - 2500 + 3000 + 4000 Fi

| | | | |
| --- | --- | --- | --- |
| Model / str. | Vejl. pris | J & F pris | |
| Shimano Stella 2000 Fi ex. spole 0,16mm - 105m - Bestillingsvare | | 899,- | |
| Shimano Stella 2000(Shallow spool) Fi | 5.799,- | 4.995,- | |
| Shimano Stella 2500 Fi | 5.999,- | 4.995,- | |
| Shimano Stella 3000 Fi | 5.999,- | 4.995,- | |
| Shimano Stella 3000 Fi ex. spole 0,25mm - 210m - Bestillingsvare | | 899,- | |
| Shimano Stella 3000 Fi HG | 6.199,- | 4.995,- | |
| Shimano Stella 4000 Fi ex. spole 0,25mm - 260m - Bestillingsvare | | 899,- | |

mail@jagtogfiskerimagasinet.dk
Se andre produkter fra samme mærke
Shimano