25-08-2020 14:30:22
Penn Squall 50VSW Big Game 2 speed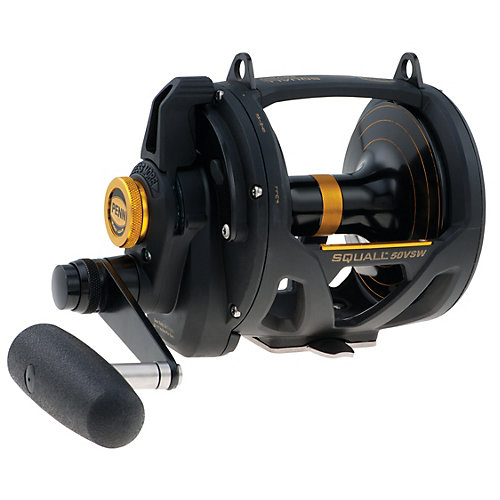 Stærkt & pålideligt Big Game havhjul fra amerikanske Penn til havets kæmper såsom Tun, Marlin mm..
Letvægts Graphite hjulhus & aluminiums spole.
Monteret med stærkt rustfrit gear og mulighed for at skifte mellem høj og lav gear.
Leverdrag / Dura-drag biggame havhjul i god kvalitet monteret med 4 rustfrie kuglelejer, dobbelt bagstop og mange andre gode detaljer.
Et hjul hvor du får RIGTIG meget for pengene !
Lightweight graphite frame and sideplates
Forged and machined aluminum spool with Line Capacity Rings
Quick-Shift 2 speed system
Stainless steel main and pinion gears
Dura-Drag system
4 stainless steel bearings
Double-dog anti-reverse.
The PENN Squall Lever Drag 2-Speed is basically a graphite International and comes in the 3 most popular big game sizes. Made from graphite for its benefits of being both lightweight and corrosion resistant. The Quick-Shift 2-Speed and Dura-Drag systems have been perfected in our International reels and the technology has transferred down to the Squall platform.
MONO CAPACITY YD/LB
1550/30 890/50 565/80
BRAID CAPACITY YD/LB
2485/65 2145/80 1835/100
BEARING COUNT
4
MAX DRAG LB
40lb | 18.1kg
GEAR RATIO
2.9:1 / 1.5:1

mail@jagtogfiskerimagasinet.dk
Se andre produkter fra samme mærke
Penn