14-08-2020 09:22:22
AFTCO Release fishing gloves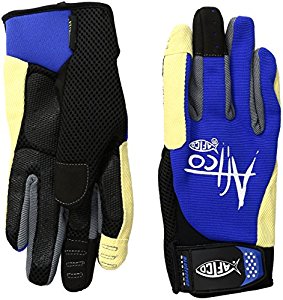 En Super kvalitet universal handske for sikker håndtering af store af Big Game saltvands & ferskvands fisk såsom Tun, Sejlfisk, Marlin, Stør mm.
Produceret i i de bedste materialer med ekstraforstærkninger og antislip gummi-greb på indersiden af handsken.
Blød og åndbar overhandske, som ikke ødelægges selv om du håndterer kraftige flet & nylon leaders, som vikles omkring.
AFTCO Release fishing gloves are the ideal saltwater fishing glove for leadering monofilament, grabbing the bill of a marlin, or just getting a grip on anything slippery. These are the pair of gloves you want for offshore fishing. Extra tacky Diamond-Grip polyurethane is directly injected onto nylon mesh palms for improved grip in wet conditions. Super tough Armortex® along outer hand and reinforced index finger maximizes protection when wrapping leader on a big fish offshore. The gloves vented foam-backed mesh keeps hands cool and protected, while Spandura® forchettes improve dexterity. Perforated neoprene cuff with Velcro® closure assures a secure fishing glove fit.
AFTCO Release fishing gloves

| | | |
| --- | --- | --- |
| Model / str. | JoF pris | |
| AFTCO Release fishing gloves size: Large | 419,- | |
| AFTCO Release fishing gloves size: Medium | 419,- | |
| AFTCO Release fishing gloves size: XLarge | 419,- | |
| AFTCO Release fishing gloves size: XXLarge | 419,- | |

mail@jagtogfiskerimagasinet.dk
Se andre produkter fra samme mærke
AFTCO