06-10-2020 15:11:15
Stonfo Wind-On Needle sæt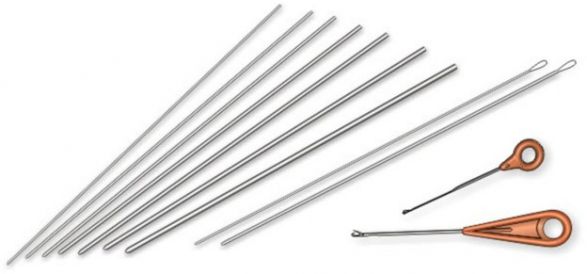 Super lækkert og uundværligt kit til at splejse sine egne flueliner, BigGame Hollowcore fletliner, Dacron bagliner mm.
Kittet indeholder 7 hollow needles, 2 trådere & 2 splejse nåle.
Spidserne er i blødt materiale, så de ikke ødelægger fibrene i linerne.
Leveres i slagfast rør.
 

Hollow splicing needle set. Supplied complete with 7 stainless steel needles and 4 loop needles it is suitable for making wind-on leaders in the different size of lines. This system permit the splicing without knots between mono or fluorocarbon and spectra or dacron.The interchangeability of the leader is allowed by loops on the braided spectra (loop to loop connection). Handy packing with instructions included.
Needle 1 Ø ext.0,80 mm Ø int. 0,44 mm
Needle 2 Ø ext.1,00 mm Ø int. 0,50 mm
Needle 3 Ø ext.1,20 mm Ø int. 0,75 mm
Needle 4 Ø ext.1,50 mm Ø int. 1,05 mm
Needle 5 Ø ext.1,70 mm Ø int. 1,30 mm
Needle 6 Ø ext.1,90 mm Ø int. 1,45 mm
Needle 7 Ø ext.2,10 mm Ø int. 1,60 mm
Loop needle 1 Ø ext.0,80 mm Ø int. 0,44 mm
Loop needle 2 Ø ext.1,20 mm Ø int. 0,75 mm.
Stonfo Wind-On Needle sæt

| | | |
| --- | --- | --- |
| Model / str. | JoF pris | |
| Stonfo Wind-On Needle sæt med 11 stk. nåle & trådere i slagfast rør | 499,- | |

mail@jagtogfiskerimagasinet.dk