28-05-2022 09:46:25
Rio Scandi Body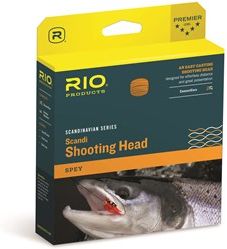 Dette er vores absolut favorit versi-tip klump. Vi anbefaler blandt andet Rio Replacement tips,  Hardy tips, Guideline 4D tips samt Vision Hybrid tips som spidser på disse klumper.
Rio skriver:
"A VERSATILE BODY that combines Skagit power with Scandi grace
Multi-purpose design, casts like a Scandi or a Skagit.
Printed ID system for easy size recognition.
Loops on both ends for fast rigging.
The Scandi body is a short body to which a multitude of tips can be attached - it is the most versatile design of all, and blends Skagit power with Scandi grace. It is ideal for anglers that want to travel light, yet have multiple fishing options. To the front end of the body anglers can attach regular 10 ft & 15 ft tips, MOW tips, "T" tips, iMOW, iMOW 3D tips or VersiLeaders.
We have added a longer version of the Scandi Versitip Body in from #8 and up and in different sink rates. These bodies have been added 1 meter in length and 2 grams in weight.
The 2D bodies have a 3,0 meter float/intermediate part and 5,0 to 5,6 meter intermediate/Sink 3 part."

mail@jagtogfiskerimagasinet.dk
Se andre produkter fra samme mærke
Rio


Tilbehør
Klik på produktet for yderligere information