11-12-2015 15:36:33
Deep Blue 'Titanium' Popping/Jigging Rod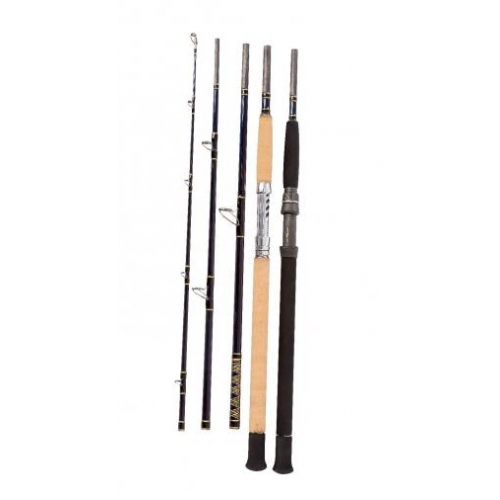 Super smart koncept med kombi popperstang og speedjig stang fra Snowbee i én og samme stang.

Dejlig kompakt og rejsevenlig stang leveret i cordurarør til den rejselystne lystfisker, som ønsker en minimal rejselængde.

Klingen er betegnet som en langtkastende popper/stickbait stang som loader via den øverste top-del og besider rigtig gode kaste-egenskaber eller en let jigging stang med masser af rygrad.

Der medfølger 2 bunddele og 3 topsektioner - dvs. der bruges forskellig bunddel (neopren-modellen) + 2 top-dele til speedjig eller 4 dele til totalt til popperfiskeriet (korkhåndtaget og 3 topdele).

Stængerne behersker nemt poppere/jigs op til 150g.

Speedjig bundelen er monteret med luksus Fuji hjulholder i kunstof - Popperhjulholderen er produceret i aluminium og produceret af Alps.

Kvalitets keramiske løberinge fra Alps.

Spigot samlinger

Transportlængde stang: 74cm.

Transportlængde stang-rør: 83cm. Diameter 11cm.


Et virkelig fint produkt med mange anvendelsesmuligheder :-)
Our popular Popping/Jigging Rod, has travelled the world and accounted for some monster fish. For 2015 however, it was time to upgrade it.


The new model is built with the innovative new ALPS 100% Titanium guides for light weight and strength; they will simply never corrode, no matter how much abuse they are given. Featuring a 'Ring-Lock' system, whereby the Zirconium ring liners, are locked in place, for protection. Lightweight ALPS machined aluminium reel seat and finished with 'Deep Blue' crosswhippings.

The cleverly designed blank comes with 5 sections to provide two rods in one! In its 4-pce configuration, it is a powerful 8ft 6in Popping Rod, rated at PE 4-5 for lures of 100-150g (4-5oz), however we have many reports of fishing this with braid up to 80lb with far larger lures.

Capable of taming anything from tail-walking Tarpon, to giant GT's heading for the coral! This powerful new rod will easily throw large surface poppers and plugs, but has reserves of power ready for the unexpected! Remove the top two sections and fit them onto the additional 'boat rod' butt section supplied and it converts to a powerful 3-pce 6ft 6in 20-30lb class Jigging/Boat rod, ideal for anything from trolling for kingfish to deep water jigging.

A perfect combination when travelling overseas and luggage weight is all important. You effectively get two rods in one, packing down to a convenient 29" (74cm) to fit your luggage. Both butt sections fitted with a gimbal fitting and cover.

Deep Blue Popping & Jigging Rod

| | | | |
| --- | --- | --- | --- |
| Model / str. | Vejl. Pris | JoF pris | |
| Snowbee Deep Blue 'Titanium' Popping 8'6'' 4pc. & Jigging 6'6'' Rod 150g. 3pc. Kombi incl. rør | 3.499,- | 2.599,- | |

mail@jagtogfiskerimagasinet.dk
Se andre produkter fra samme mærke
Snowbee