29-11-2017 13:49:23
R. L. Winston Passport
Winston til lavpris. Passport serien fra R. L. Winston er lavet til dem der ønsker en billig kvalitets stang med den dybe klassiske Winston aktion.
På trods af den lave pris er finishen i særklasse(vi har faktisk ikke set en stang til under 3000,- med samme finish) og kasteegneskaberne kan være med selv blandt de bedste stænger på markedet. Dette er tydeligt bekræftet i flere amerikanske stangtest(se nedenfor).
Som alle de andre Winston stænger kommer Passporten med den sædvanlige livstids garanti.



Dette er hvad der blev sagt om stangen i testen udført af Yellowstoneangler.



"We were all impressed at what a performance this inexpensive rod delivered. It was a very light rod, even lighter than the BIIIx in overall weight. Its swing weight fell behind the BIIIx though as we expected but still this rod had an exceptionally good overall feel and great accuracy, especially at short range. The action is just about perfect for a medium fast rod and the softer tip helped contribute to the excellent accuracy it delivered, especially when we compared it directly to the other inexpensive rods we tested. There is no question that this is the best inexpensive rod that Winston has ever offered and one of the very best values we see on the market today.

This rod is imported for Winston and the craftsmanship is a long way from the BIIIx made here in Montana, but the wraps and coatings are better than the other inexpensive rods in our test. Although the grip had a pretty good sized swell under my palm this didn't bother me much. This rod was noticeably lighter in swing weight than either the Grays GRXi or St. Croix's Imperial.

The key to how well this rod placed was its performance. The only category that held it back was the nymph rig performance, with the same being true for the BIIIx. If you are looking for a good inexpensive rod to start out a beginner or just one to have for a backup, you can't go wrong with this Winston Passport.
George's casting notes:

Performance at 25 feet: 19 points out of 20
This rod has an exceptionally nice feel and gave us tremendous accuracy for such an inexpensive rod. We were all impressed! A very well balanced rod with a nice light flexible tip made accurate casting in close easy for everyone.

Performance at 45 feet: 19 points out of 20
The Passport proved to be a very pleasant rod to cast at this distance. Light in my hand, it delivered nice tight loops and very good accuracy. Better than a whole lot of the more expensive rods.

Performance at 70 feet: 18 points out of 20
Here, the lack of butt power held it back a bit. Smooth and well balanced but just not able to perform as well at this range as the stiffer rods.

Nymph Rig Performance: 16 points out of 20
Again, the lack of butt power and overall power didn't allow the Passport to chuck our nymph rig with the authority of other rods. It was OK but nothing special.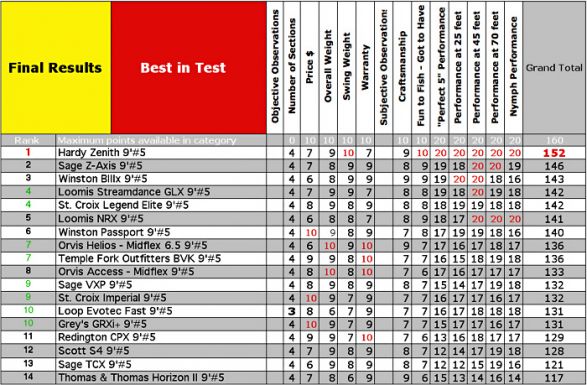 Winston Garanti
Alle Winston stænger er dækket af en livsvarig garanti, dog kun for første ejer.
Garantien dækker ikke slitage eller misligehold.
Ved garanti sag skal der påregnes et rep. gebyr på 595,- Dkr

Ved reparation skal alle dele/hele stangen indleveres.
Da reparationer bliver udført i USA, og det er håndbyggede stænger hvor hvert enkelt del skal tilpasses skal der påregnes cirka 1-2 måneders reparationstid.

mail@jagtogfiskerimagasinet.dk
Se andre produkter fra samme mærke
R. L. Winston Rod Co.