18-10-2013 16:47:24
Fish Skull Articulated Shank
Kan både bruges som enkelt styks eller sættes sammen til en leddelt flue ligesom "Articulated Fish Spine".
Citat fra Flymen:
"It can be used as a simple component in different styles of articulated flies such as single-hook and two-hook articulated streamers, poppers and sliders. It is also used for streamers that use a free-swinging stinger hook such as Intruder-style salmon and steelhead flies."
Key Features:
Easy-and-fast tying process.
Increases tail action.
Increases the overall fly length.
Reduces the leverage a hooked fish typically places on a fly.
Eliminates the need to "sacrifice a hook" to make a shank.
3 Shank lengths (20mm, 35mm and 55mm).
20 Shanks per pack.
Typically for streamer flies 3″ (7.5cm) and longer.
Wire diameter fits hook sizes starting from about #4 up to 3/0.
Will fit the Fish-Skull™ (SM, M and L sizes) and the Fish-Skull™ Sculpin Helmet.
The high strength, stainless spring steel shank can be used in saltwater.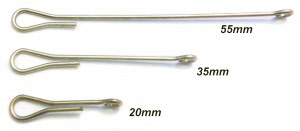 17/10

Fish Skull Articulated Shank

| | | | |
| --- | --- | --- | --- |
| Produkt | Str. | Vejl. pris | |
| Fish Skull Articulated Shank 20 stk | 20mm | 70,- | |
| Fish Skull Articulated Shank 20 stk | 35mm | 70,- | |
| Fish Skull Articulated Shank 20 stk | 55mm | 70,- | |

mail@jagtogfiskerimagasinet.dk
Se andre produkter fra samme mærke
Fly Co.