17-10-2013 14:33:49
Articulated Wiggle Shanks
The Articulated Wiggle-Tail Shank offers a convenient way to tie articulated "wiggle-tails" or rear body sections on nymphs, emergers, small streamers and even dry flies
This simple product eliminates the need to "sacrifice a hook" to get a shank.
A single product flexible enough for flies in the #6 to #18 hook size range.
The long shank is easily trimmed to the tail length needed to match the size of fly being tied.
By design the shank can be bent if a curved tail is desired on the fly.
Wire diameter thin enough to tie articulated flies as small as #18 and even light enough for dry flies.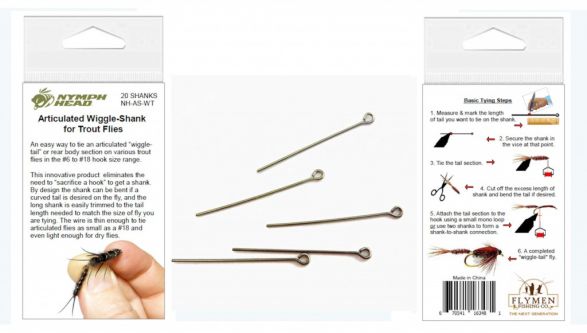 mail@jagtogfiskerimagasinet.dk
Se andre produkter fra samme mærke
Fly Co.