06-06-2018 09:34:43
Whopper Plopper 190mm

Perch 130mm

Blue Blood 130mm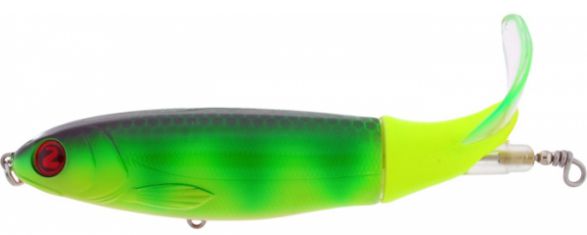 Firetiger 130mm

Rainbow Trout 130mm
Whopper Plopper 130 er en ny inovativ serie af suveræne overflade woblere fra fiskelegenden Larry Dahlberg (River2Sea).
Modellen findes i en 38g / 13 cm + en 77g / 19cm. En agn som er flydende og kaster suverænt godt pga de 3 store tungstenskugler indeni wowlerens bagparti. Halen rotere i vandet, når der trækkes ind (lidt som på en almindelig spinner). Dog er halen produceret i blød plast / gummi som får halen til at dreje meget nemt og ubesværet rundt ved meget lille påvirkning. Dette giver den navnet og lyden Whopper Plopper!
En virkelig effektiv agn til både gedder, aborre, muskie og varmtvandsfiskeri efter Jacks, GTer, Cuberrra snapper, Tun og Rooster fisk mfl.!
Prøv gerne at fisk den som en popper / jerkbait - så den rykkes ind og derved laver et stor skumsprøjt - det virker ihvertfald til varmtvandsfiskene!
River2sea's Whopper Plopper 130 is designed by the legendary angler Larry Dahlberg. Because we were catching so many big pike and musky on the Whopper Plopper 190, we just had to downsize it for seabass, aspius, yellow perch and black bass!
Citat:
We were catching so many big pike, musky, big bass, both largemouth and smallmouth on the musky sized whopper plopper we just had to downsize it for seabass, aspius, yellow perch and black bass!It operates at speeds from crawl so super slow you can't hear the tail, only the tiny glass beads that sizzle inside as the head shakes back and forth with each rotation of the tail.Speed it up and it throws water like a swamp buggy and has the same deep, hollow, whopper-plopping-fish-catching sound of the original!Like the original, it casts a mile so it's great for combing large flats or expanses and obviously its ability to work at the widest possible range of speeds makes it a great tool for tuning in the most productive speeds and rhythm of the particular day, a particular fish that might be following or one that's just watching other top water lures go by.Also, like the original the tail is perfectly tuned out of the box, is flexible and stays perfectly tuned forever.The Whopper Plopper 130 and 90 provide long accurate casts, a wider possible range of speeds, and wider range of commotion and sound than anything even close to it's size you have ever tied on your line. Learn how to use it and I guarantee it will put extra fish in the boat.

P.S. Please, if using it for larger species, remove rear hook and put on one front hook two sizes larger. They tend to eat it and it's difficult to avoid gill injury.

Loon 190mm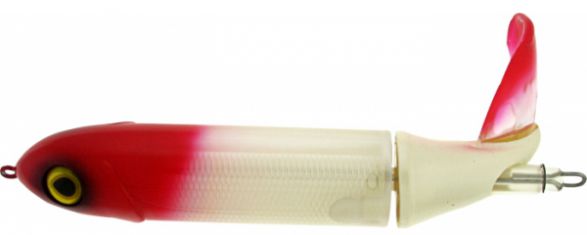 Lucy 190mm (Red - White)

Perch 190mm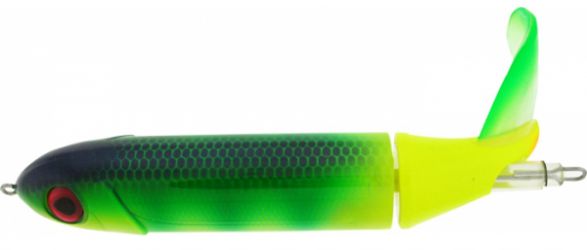 Firetiger 190mm
Den store Whopper Plopper i serien med rigtig meget larg - en suveræn sommeragn i mosen til gedderne - eller alt med store tænder i saltvand & ferskvand...
River2sea's Whopper Plopper 190, designed by the legendary angler Larry Dahlberg, is his secret weapon for musky fishing. The soft, pliable tail rotates on the harness and creates muskie alluring rumbles at variety retrieve speeds and depths. The tail is designed to withstand the punishment rendered rocks, stumps and muskies.
For decades savvy musky and pike anglers have known that surface lures that made a certain deep throated hollow popping-plopping sound drove muskies and pike crazy. The problem was if you found one with a "good" tail it would bend and get out of tune when it got bit by a fish, hit a rock or even just from repeat casting.

I caught my first musky over 50 years ago on this type of lure and I've been tinkering with them ever since. The Whopper Popper is the culmination of my years of fine tuning this style of lure and since they are molded, every single one comes out of the box with the perfect tail size and angle to make a sound that simply drives fish crazy. Plus, its tail is made of super tough plastic that flexes right back into place no matter whether it gets chomped on or gets cast into a bridge piling.Weighing in at over 75 grams you can cast it a mile and it's got top quality River2sea 5/0 hooks that will stick from long distance.

The Whopper Plopper is "roll resistant" and works well at a variety of speeds. Interestingly, sound experiments have suggested that even at constant speeds the tail kicks out sounds that vary as much as an octave in pitch as opposed to the more monotone metal tails.
Whopper Plopper 130 + 190

| | | |
| --- | --- | --- |
| Model / str. | J & F pris | |
| Whopper Plopper 130mm / 38 g. Farve: Blue blood UDSOLGT | 139,- | |
| Whopper Plopper 130mm / 38 g. Farve: Firetiger UDSOLGT | 139,- | |
| Whopper Plopper 130mm / 38 g. Farve: Perch UDSOLGT | 139,- | |
| Whopper Plopper 130mm / 38 g. Farve: Rainbow Trout UDSOLGT | 139,- | |
| Whopper Plopper 190mm / 77 g. Farve: Firetiger | 179,- | |
| Whopper Plopper 190mm / 77 g. Farve: Firetiger | 179,- | |
| Whopper Plopper 190mm / 77 g. Farve: Loon | 179,- | |
| Whopper Plopper 190mm / 77 g. Farve: Lucy | 179,- | |
| Whopper Plopper 190mm / 77 g. Farve: Perch | 179,- | |

mail@jagtogfiskerimagasinet.dk