01-04-2016 09:07:37
Cannon Digi-Troll 10 II HS (Sort)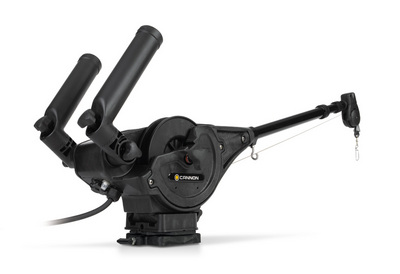 Topmodel fra Cannon elektroniske downriggere. Denne nye serie Digi-Troll har fået nyt design og display. Der er kommet anden base og mere justerbare stangholdere bagpå riggeren.
Denne downrigger kan bottomtracke (følge bunden op og ned), den kan indstilles, så den kører op og ned i intervaller, den kan køre ned i samme dybde som tidligere mm.
Der skal tilkøbes transducer og evt. kabel til sammenkobling af 2 stk. digitroll ved siden af.
En downrigger som virkelig sætter standarden inden for trollingfiskeriet!
The Digi-Troll 10 features a full backlit keypad with an an integrated backlit LCD screen which gives you full control of your downrigger. Raise and lower the weight, adjust Positive Ion Control, or program the amount of line you're using for better line counter accuracy. Cycle the weight up and down at preset intervals and depths, or use Bottom Track to automatically keep your bait at a preset distance from the bottom. Store up to five different preset depths for easy reference. Even display data from your IntelliTroll Speed & Temp probe directly on the downrigger screen. Ability to control up to six downriggers at once from your Humminbird fishfinder with the CannonLink Accessory or link multiple DT10s together for multiple unit bottom tracking. Fastest retrieval rate on the market (250 feet per minute) and a Short-Stop feature that protects the boat from swinging weight. Includes mounting base, low-profile swivel base, and a telescopic boom that extends from 24" to 53". Digi-Troll is built tougher and smarter to make you a better angler. Cannon Edge Design features fewer moving parts, one-piece composite construction, a redesigned boom end, protected circuit boards, and easy access to the spool, switches, plugs and mounting nuts.
250-feet-per-minute retrieval rate is the fastest in the industry
Intergraded Control Screen provides illuminated keypad controls with large backlit LCD screen. Also can display IntelliTroll speed and temp ratings, and lets you raise and lower the weight, adjust Positive Ion Control, or program the line amounts
Revolutionary Control Features allow you to cycle the weight up and down at preset intervals and depths, or use Bottom Track to automatically keep your bait at a preset distance from the bottom. You can even store up to five different preset depths for easy refernce.
Short-Stop - at the push of button, Short Stop automatically retrieves the weight and stops it at the waterline, so you can get back to fishing without worrying about boat damage from swinging weights
WaterLine Zero lets you keep your weight at a set depthe below the surface
Adjustable Positive Ion Control (PIC) allows adjustment of the amount of voltage emitted. PIC emits positive ions from the cable to combat the negative ions from your boat, creating a fish-attracting field of energy
Five adjustable retrieve and deploy speeds
Cannon Link compatible - control up to six downriggers at once from your Humminbird fishfinder. CannonLink lets you cycle your Digi-Troll 10 up and down, bottom track, raise and lower the weight, or adjust Positive Ion control. (CannonLink accessory sold separately)
Heavy-duty telescopic boom extends from 24" to 53"
Digital depth counter
Includes two dual axis adjustable rod holders
Easy spool access
Includes mounting base and low-profile swivel base
Includes 2 line releases and 400 feet of 150-lb test stainless steel cable
IP68 waterproof connections
Integrated ball storage hook
20-lb weight capacity
Corrosion-resistant construction
Limited lifetime warranty
Manufacturer item #1902325
Cannon Digi-Troll 10 II

| | | | |
| --- | --- | --- | --- |
| Model / str. | Vejl. pris | Tilbuds Pris | |
| Cannon Digi-Troll 10 II HS Farve: Sort | 16.999,- | 14.999,- | |
| Cannon Digi-Troll 10 II TS Farve: Hvid - bestillingsvare | 18.199,- | 15.999,- | |

mail@jagtogfiskerimagasinet.dk
Se andre produkter fra samme mærke
Cannon