19-08-2022 17:46:45
Snowbee Float Tube Kit / Flyderings Sæt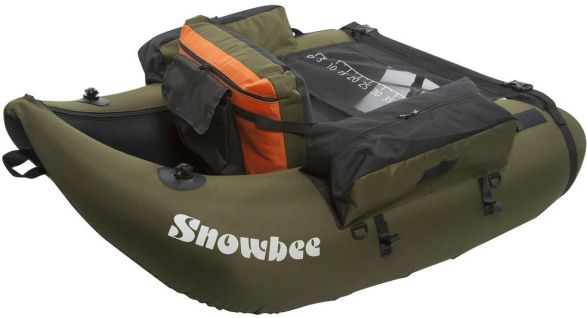 Award vindende flydering fra Engelske Snowbee med nyt design i gennemført kvalitet til fornuftig pris!
En bellyboat, hvor man sidder højt ala Pool12 modellen og Drifter, men med højere front og endnu mere retnings stabil og bryder bølgerne bedre.
Farve: Oliven grøn.
Praktisk lommer på oversiden og bagved det oppustelige sæde.
Sælges som kit med transporttaske, pumpe og std. svømmefødder.
Flydering vægt: 10lbs / 4,5kg. incl fødder og pumpe: 14lbs / 6,5kg.
Maksimal bærevægt / opdrift: 115kg.
Størrelse: 140 x 107cm.
19450 Float tube Kit
Incorporating the latest thinking in Float Tube design, the twin-tube 'V-Boat' style, has the tubes swept up to form a bow, providing less resistance and far easier passage through the water, whilst maintaining great stability. Weighing in at just 4.5kgs (10lbs), our Float Tube can be easily 'back-packed' with the shoulder straps provided, for effortless hiking up to hill lochs and reservoirs.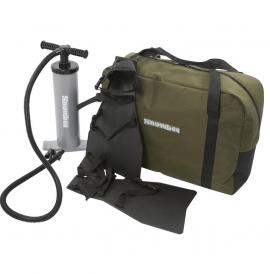 Tough 600D nylon top panels in Olive Green colour
Black bottom panels so as not to spook the fish
Twin durable welded PVC bladders with top quality one-way valves
Improved 'double-line' welding of the bladders, to prevent leaks
Inflatable seat and back-rest cushions, for comfort and security – also packs down smaller for storage and transportation
Quick-release stabiliser bar across the front, with quick-release retainer strap to front of seat
Two large zipped side pockets for storage, with internal dividers
Backrest storage pocket with fluorescent safety panel
Mesh bow storage area for 'wet storage'
Mesh line tray with quick-release Velcro attachments for easy exit
Fish measure scale on line tray
Velcro rod storage tabs on each side and across rear of tubes for safe storage of spare rods
2 accessory D-Rings each side
Adjustable and removable backpacking straps
Carry handle at bow
Our float tube comes as a complete kit – Float Tube, Flippers, Dual-action Pump and sturdy Carry Bag for storage and transport.
Maximum recommended user weight 18 stone (115kgs)
Inflated size: 140cms x 107cms
Weight: Float Tube 4.5kgs (10lbs) ; Complete Kit 6.5kgs 14lbs
Items also available separately.

mail@jagtogfiskerimagasinet.dk