19-05-2022 13:09:00
Guideline Drifter Flyderingssæt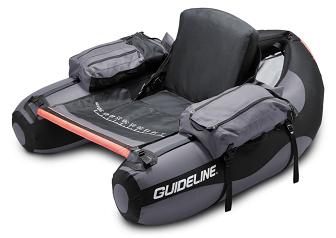 En af markedets bedste flyderinge.

Features som oppusteligt sæde og ryglæn for bedre komfort, dobbelte kamre i begge pontoner for større sikkerhed, 8 lommer på hver ponton, bagage net i fronten mm.
Leveres med fede svømmefødder og double action pumpe.
-

High-floating, stable pontoon boat that has gained great reputation around Europe, the Drifter has floatation devices in both the seat and the backrest.

In addition, each of the two bladders have double air compartments for floatation and extra safety.

The front of the boat has a mesh bottom that acts as a storage area for extra gear carried in a waterproof bag and there are several D-rings, straps and double storage pockets on each side to keep essential tackle close to hand.

The DRIFTER comes with the bladders mounted and ready for use. New upgraded model with different pocket configuration, new rod holders, larger line apron with new fastening, metal D-rings, non slip fabric on seat edge and a new grey/hot red/black color combination.

Weight: 8kg.
Max loading capacity: 140kg.

TIP

1) The first time you inflate the Drifter the tubes might twist a little. Take it easy and make sure that the vents are in center.

2) Do not inflate vent 1 rockhard and then vent 2. Vent 1 is the smaller chamber on the middle of the pontoon. Just fill it quite firm, then the second vent 2. Vent 2 is the large chamber that goes all through the pontoon. This should have most of the air. If you can push down a cm with your finger the pontoon is inflated well enough.

Remember! When it is warm and sunny, the air within the tube expand. If you misplace the pontoon in the sun or store it in a warm place the tubes might explode. When You store it inflated, make sure that you have no more than half of the needed air in it.

mail@jagtogfiskerimagasinet.dk
Se andre produkter fra samme mærke
Guideline