28-02-2018 18:10:48
Simms Dry Creek Backpack 2018 model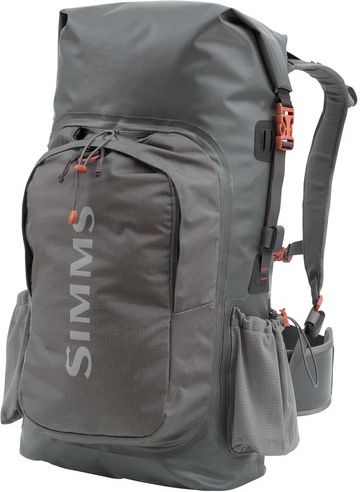 DRY CREEK BACKPACK 
FLOOD-PROOF PACKS BUILT FOR PRESSURE-WASHER CONDITIONS 
Plot coastal missions through ripening rainclouds and storm class IV canyons that guarantee a gear dunking, with Simms' new lightweight, fully submersible Dry Creek™ Backpack. Powered by rugged ripstop and oxford fabrics, with double-sided TPU coatings, the pack features waterproof roll-top safekeeping for a swath of stay-dry fishing essentials. 
Reach inside, where stretch-mesh pockets cut down clutter. Source extra storage and strap-in security via external lash points. And stay hydrated during the long-haul, with convenient exterior stretch mesh water bottle pockets. High loft, closed-cell foam back panels and a non-absorbent cushioned waistband and shoulder harness system enhance comfort, while the front wet-storage compartment includes laser-cut porting for quick drainage.
KEY FEATURES:
Highly durable and fully waterproof TPU coated fabrics with a submersible roll-top closure
High loft, closed-cell foam back panel, waistband and shoulder harness system is non-water absorbent and fully cushioned
Front wet storage compartment includes laser-cut holes for quick drainage
Exterior stretch mesh water bottle pockets and interior stretch mesh organizational pockets
MATERIAL TECH:
Waterproof TPU coated fabrics
COLOR:
GREYSTONE
SIZE:
36 L; 44,5 X 19 X 81 CM

mail@jagtogfiskerimagasinet.dk
Se andre produkter fra samme mærke
Simms®